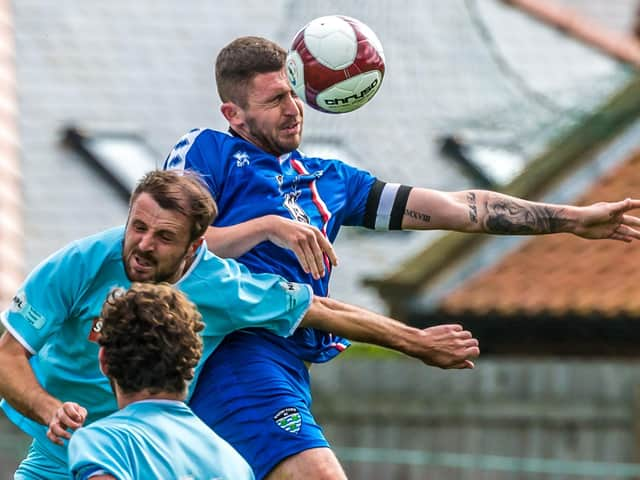 Daniel Rowe rises highest
The Blues' captain signed a new contract with the club last week and he believes that he and his team-mates have it in them to have a memorable PitchingIn Northern Premier League (NPL) campaign.
The Seasiders have ended seventh in the league standings in the last two seasons, albeit with the division being annulled on both occasions, but with a strong squad being developed by Nathan Haslam and Lee Bullock, there is no reason why Town cannot go even further next time.
"I think we've got a really good squad together now," the 25-year-old skipper told The Whitby Gazette. "There's no reason why we can't be pushing on for the top places in the table and getting into those play-off spots.
"We feel like it would be a bit of a wasted opportunity if we didn't reach our potential. The squad's really exciting and it's full of good players who have played at higher levels.
"It would be such a shame if we didn't get promoted as we've got such a good bunch of lads."
After two incomplete seasons in the NPL, the current squad have been unable to reach their full potential which is why it is key that the club manage to secure the services of them over the coming weeks and months ahead of the summer return to action.
Rowe, the former Rotherham United and Wycombe Wanderers man, hopes that the majority of last season's team will still be around come June when pre-season starts and that supporters can see what everyone is capable of.
He added: "We were really starting to work well together. We had quite a few people come in after a lot of players went out last summer so we did have to get used to each other.
"We've got a really good team now and it's a tight-knit squad and from my point of view I get on well with everyone and I enjoy playing with everyone.
"We're all on the same track and we want to be successful at the club.
"It's also great that the managers have stayed on as well as they're both really good coaches which means that all of the lads are buying into it.
"We're all looking forward to getting back into training, whenever that may be, and working on preparing for next season."
On his new deal at the club, Rowe said: "I'm delighted to have signed on for another season.
"I love playing football at Whitby so I'm glad I'm on the books for another season."