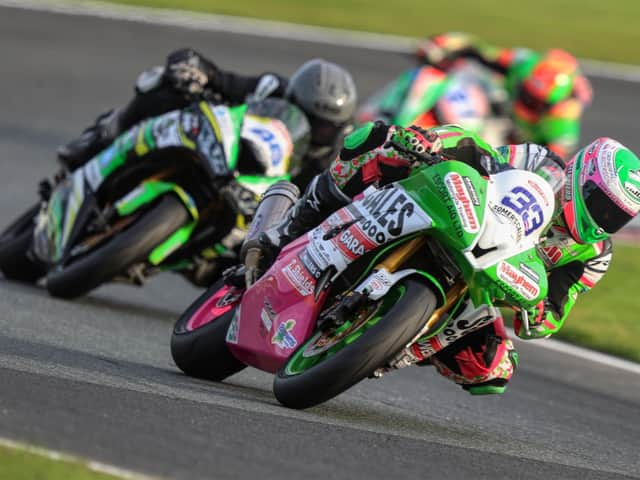 Ben Tolliday in action at Oulton Park Photo by SP8 Images
In Friday's free practice, Tolliday clocked 1:47.0 in FP1 for 18th position and 1:45.4 in FP2 for 19th position.
Saturday's Qualifying was a tricky session with the track being wet, starting to dry towards the mid-end part of the session, but not enough for dries, so those with intermediate tyres were in an ideal situation.
The Cayton racer clocked 1:54.5 for 19th position.
Ben Tolliday in action at Oulton Park Photo by SP8 Images
Tolliday got a poor get away off the line in the Sprint Race but was quite aggressive into turn one.
He lost touch with the guys in front after a few laps but had a great battle until the last lap to finish 14th in class.
Tolliday, starting in 17th position, got a decent start in Sunday's Feature Race and made up a couple of places off the start but they were quickly conceded to the faster lads in the race.
He said: "It was a solid weekend really, especially compared to the last time we were at Oulton Park."
Tolliday would like to thank his sponsors; Somerscales Heavy Haulage Limited, Westwood Garage T Shields Autos, Mayhem Motorcycle Training, T Shields Transport, Browns Caravan Park, DRC Race Leathers, General Electrical, Gardner Engineering Services Ltd, East Coast Bearings LTD, EBC Brakes, Millers Oils Ltd, Racebikebitz Samco Distribution, Escort Aid Ltd, Don French Signs, Allspeeds Motorcycles & Classic Scooters, Dr Bike, Technicolour Ltd - Powder Coating and Shot Blasting, 12welve Motor Co.