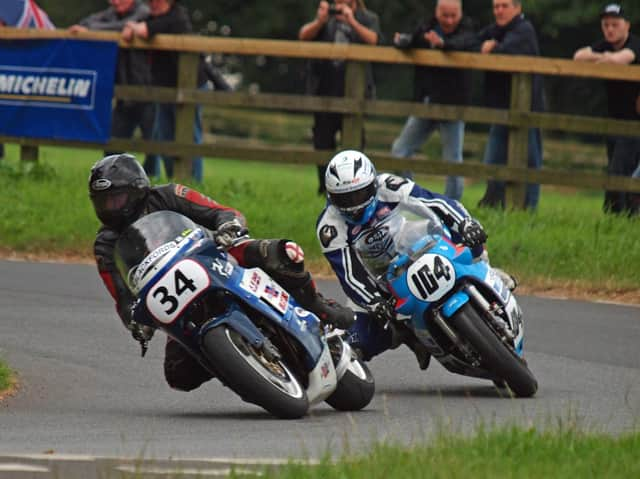 Action from the 2016 Barry Sheene Classic meeting
The Barry Sheene Classic is a three-day event on Friday the 14th, Saturday 15th and Sunday 16th August.
Tickets for meeting are now on sale at https://www.dukevideo.com/prdOMBS2020/Olivers-Mount-Barry-Sheene-Classic-2020-Ticket
Admission is only available with pre-purchased ticket and is currently limited to 2,500 per day.
Unfortunately there are no paddock passes available for this event and it is with much regret that the race programme for The Barry Sheene Event will not feature sidecars.
The Sheene Classic brings together hundreds of machines and riders from motorcycle racing history, on display and raced by riders of the calibre of Dean Harrison as well as legendary ex-racers. This event will be for solo machines only.
The Gold Cup meeting is a three-day event on Friday the 11th, Saturday 12th and Sunday 13th September.
The Gold Cup brings together many of the world's top road racers to do battle on 'the Mount' over three days of spectacular racing.
Expect to see riders of the calibre of Dean Harrison on his immaculately prepared Silicone Engineering bikes, other solo stars and TT winners as well as some of the top Irish road racers.
Gold Cup tickets can be found at https://www.dukevideo.com/prdOMGC2020/Olivers-Mount-Gold-Cup-September-2020-Ticket
The organisers hope to include sidecars at The Gold Cup Meeting, but that will be subject to ACU approval.
Full refunds will be available should either of these events not going ahead.
The organisers also released the following information: "We are going to update changes to the events as they become known as you can appreciate, this will be a changing situation as we get closer to the events and coronavirus safety related measures may tighten and relax as time moves on.
"At present:- Camping and Caravan / Motorhome space will be limited so we can space guests out more than usual. Access will be available from 2pm on Thursday to 12 Noon on Monday for a set single price.
"We are not currently planning to have a beer tent with entertainment, but we are looking into having a take-out drinks service.
"Traders and Food Outlets are currently in the plans, but social distancing will be a requirement.
"Face Coverings may be a requirement, but we will update on this closer to the time.
"Children under 16 are still free when accompanied by an adult and do not require a ticket."