Andrew Hopper leads the way for Scarborough AC at York Marathon
Eight ​Scarborough AC members competed in the increasingly popular York Marathon, which has 4,451 finishers.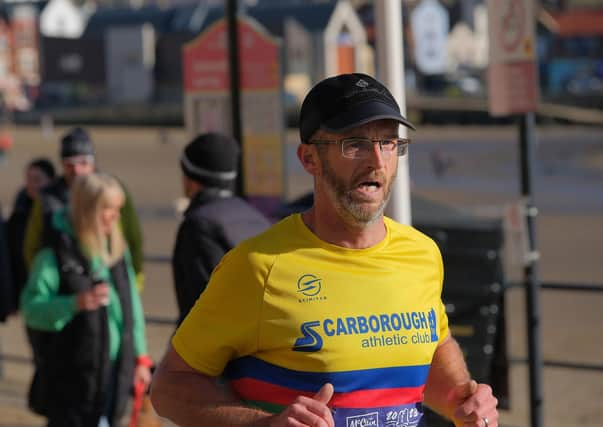 First for the club was Andrew Hopper in 3.12.40, followed by; Glynn Hewitt 3.24.43, S. Neal 3.27.52 PB, K. Smith 3.41.59, M. May 3.47.18 PB and A. Doody 5.25 40, writes Mick Thompson.
Hilary Casey finished in 4.55.40 and Carole Tomaszewicz 5.21.17. Both times were PBs.
Jack Hopper was first to finish for the club in 16th overall of 161.
Lisa Bourne was the first of the club's females when finishing 3rd female overall of 73 and 2nd O50.
Other Male Results; C. Clayton 3rd Over-55, C. Bourne 5th Over-50, M. Pepworth 4th Over-55, A. Padgham 41st, J. Walker 64th, H. Forkin 1st Over-75, A. Blackman 3rd Over-40, M. Thompson 2nd Over-80, R. Gough 2nd Over-70, J. Kitto 3rd Over-70.
Other Female Results; C. Waite 1st JW10, R. Frank 6th Over-50, J. Clayton 3rd Over-55,.R.Dent 26th, E. Walker 3rd Over-60,K.Grimwood 3rd Over-45, S. Villiers 4th Over-60, A. Metcalfe 5th Over-60, L. Bayes 1st Over-70 with a PB, J. Hudson 6th Over-60, N. Edmond 8th Over-55.
Helpers: C. Bilton, S. Garlick, M. Lambert, Mandy & Martin Pepworth, Chloe & Chris Waite, E & J Waite.
Seven club members took part in the Cinder Track Parkrun at Whitby.
The first finisher was David Lester who was 18th overall of 62 males and 5th O50.
Guilia Wilkins led the club's females in 1st O45 with a PB.
David Field was 2nd O55 and Chris Wade 4th O60.
Jennie Trown was 2nd O40, Dawn Trown 1st O50 and Olive Bannister 1st O65.
At Sewerby parkrun, Pauline Elliott was 30th of 114 females and 3rd O45.
Linda Hinchliffe 9th O50, Mary Slater 3rd O70, Pat Keenan 4th O70.
At Dalby Forest parkrun, Robert Preston was first overall of 134 and David Fox 1st O70.
Two of the club's Run Leaders Jayne Graves and Gill Glegg were third and sixth respectively of the O60s at Holyrood Edinburgh Parkrun.
At Flatts Lane Park parkrun, Matt Rutt was 8th overall of 42 at one of the hardest parkruns in the North East.
At Somerdale Bristol parkrun, Harry Whitehouse was 1st O70.