Angler of the week Dave Hambley sweeps aside rivals with quintet of victories
Staithes' Dave Hambley was definitely 'angler of the week', with two WSAA League Heaviest Bag of Fish wins, two Heaviest Fish WSAA wins and Heaviest Fish in the Redcar & Cleveland Sea Anglers Doreen Dalton Memorial Shield Open on Sunday morning.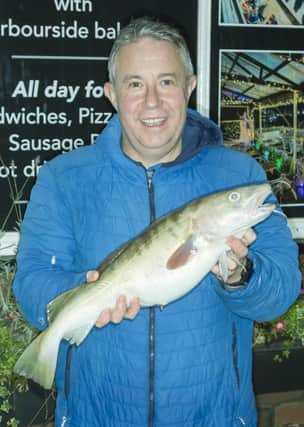 On Wednesday night it finally stopped raining, a cold SSWesterly wind 30mph, 3ft NEasterly swell with plenty of colour, writes Peter Horbury.
Match started at low water 2.7m 19.00hrs, tides slowly getting bigger.
The swell sets were erratic, weak and unable to match the speed of the flood which was pushing in quickly.
Full cloud cover, no moon light, from that point of view, ideal.
The catch forecast however was still low.
The shock of the night from Man of the Match Hambley, 25lb 3½oz (9). Heaviest Fish 4lb 14½oz and 4lb 9oz both had to be weighed separately, biggest fish first, as Bernard reminded him.
Singles KO Results: Peter Horbury 5lb 9oz (4) beat Dave Perrett 5lb 2oz (5), Brian Harland 7lb 6oz (4) beat Neil Eglon 0.
On Sunday the weather was turning very inclement, SSEasterly winds gusting 30mph, 0.7mm of rain forecast during the evening match.
Sea state 4½ft NEasterly thick with of colour. Unfortunately after the tide had turned 3pm the swell started to ease as the opposing wind speed increased.
Waiting for match start 6pm, looking out to sea, the weather front could not be missed, very dark angry skies, it was only a matter of time before the rain fell.
The ebb opened up gulleys and tangle beds, but once out on the open scaurs there would be no shelter from the elements.
A full house, all 14 members fishing had a weigh-in.
Man of the Match (for the second time this week) was Hambley, with 13lb 8½oz, (6) his fourth Heaviest Bag win, included the Heaviest Fish of the night 5lb 10½oz, his third Heaviest Fish win.
Dave, in third place on the leaderboard, has joined the '100lb Club' just 9lb 4oz shy of second-placed Dave Perrett.
Fishing the best of the sea state, the Redcar and Cleveland Sea Anglers Doreen Dalton Memorial Shield Open had been fished (7.30am - 12.30pm), and Hambley, weighed-in the Heaviest Fish of the match 5lb 7oz.
Total weigh-in for the week's matches - 139lb 5oz - 68 codlings, 10 rocklings and three billets.
Top Ten (Match 14): 1st - Brian Harland - 83 fish 122lb 3oz, 2nd - Dave Perrett - 73 fish 114lb 6oz, 3rd - Dave Hambley - 56 fish 105lb 2oz, 4th - Col Stainthorpe - 56 fish 72lb, 5th - Ryan Collinson - 44 fish 62lb 15oz, 6th - Peter Horbury - 35 fish 51lb 13oz, 7th - Rob Taylor - 27 fish 49lb 3oz, 8th = Davey Turnbull - 14 fish 47lb 2oz, 8th = Jason Ebison - 29 fish 47lb 2oz, 10th - Dan Middlemas - 17 fish 39lb 12oz.