Brian Harland and David Perrett net WSAA League Man of the Match honours
What a difference a change in the weather can make as Wednesday night's Whitby Sea Anglers Association League three-hour match had a flat calm sea state, with no colour.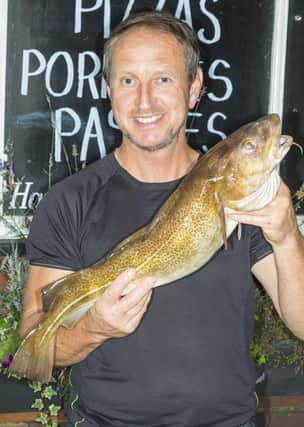 WSWesterly winds gusting 40mph, fishing the last of the flood and over HWater. Piers and cliff marks were the marks of choice, catch forecast was low, writes Peter Horbury.
But nonetheless the conditions were the same for all, and Brian Harland knew where to find them!
Harland was Man of the Match with 9lb 12oz, three codlings and four billets. His total weigh-in was 30lb 11oz, 25 assorted fish.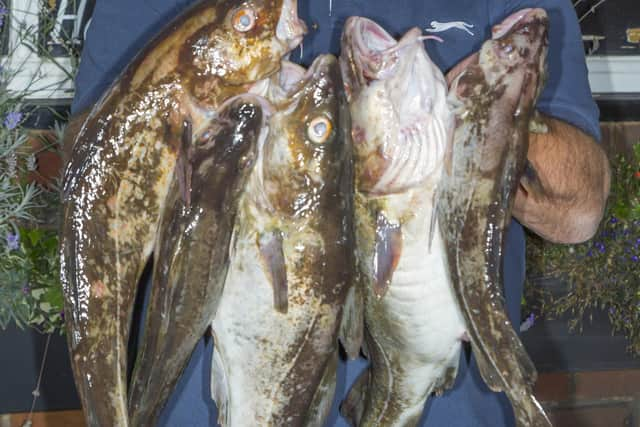 By Sunday it was all change for the evening's four-hour match.
High pressure and the first welcome long distance ground swell two to three foot Northerly, however the tide was against the 13 members fishing. A neap tide, 3.1m LWater, only 1.2m between low and high water, tangle beds were out of reach.
Members would rely on fish moving up onto the scaurs during the flood in darkness to feed.
Colour varied up and down the coastline, from chocolate to crystal clear. The wind was brisk, SSWesterly swinging Westerly with gusts of 30mph, a cross wind to hamper casting.
Bernard Vasey and Jason Ebison were kept busy at the scales as 10 weighed-in, 'double-figure' after 'double-figure' bag, six in total. 54 codlings, six rocklings, two eels (returned alive), and a bass for a grand total weigh-in 116 lb 1oz, more than the total weigh-in from the first three matches of the season!
Man of the Match was Dave Perrett, Whitby, with 12 codlings 25lb 11oz, his best 4lb 5½oz.
Heaviest Fish of the night fell to Davey Turnbull, Darlington, 5lb ½oz.
Result: 1st - Dave Perrett - 12 codlings 25lb 11oz
2nd - Ryan Collinson - 7 codlings, 1 r'ling 16lb 1oz
3rd - Davey Turnbull - 5 codlings 14 lb 11oz
4th - Dave Hambley - 7 codlings 13 lb 11oz
5th - Brian Harland - 7 codlings, 1 eel 10 lb 7oz
6th - Peter Horbury - 5 codlings, 1 eel 10 lb 3oz
7th - Jason Ebison - 3 codlings, 2 r'lings 9lb 8oz
8th - Denis Thompson - 2 codlings, 1 bass 6lb 12oz
9th - Col Stainthorpe - 3 codlings, 2 r'lings 5lb
10th - Bernard Vasey - 3 codlings, 1 r'ling 4lb 1oz​​​​​​​