Brian Harland pulls clear at the top of the WSAA League table after midweek win
Brian Harland continued his strong start to the WSAA League season with a Man of the Match success on Wednesday.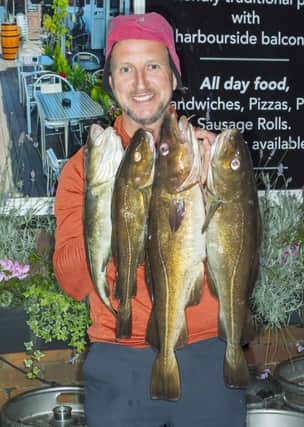 The midweek match saw brisk WNWesterly winds, NWesterly close set surface swell 2-3ft, but no colour, writes Peter Horbury.
Nine fishing two and a half hours to low water, and possibly the start of the flood (location dependent), catch forecast was low.
The wind steadily increased throughout the match, a cold night with gusts of 30mph, until low water when it dropped off, as if a switch had been thrown.
The wind strength was a problem, forcing a move, as marks became unfishable, losing valuable fishing time on an already short match. Reaching marks, reported some, was hampered by the poor ebb, as scaurs remained flooded.
At the scales Bernard Vasey was relaxed, no rush as members slowly returned to weigh-in. 23lb 5oz - from 21 assorted fish - 12 codlings, 6 rocklings, 2 billets and a whiting.
Man of the Match Harland, Whitby, netted his third win, 5 codlings 6lb 15oz
On Sunday high pressure continued to dominate, the WNWesterly winds now 8-12mph, bright sunshine but cooler than of late 5°C.
From Wednesday the sea state had developed from surface swell to long distance ground swell, 8-12ft, too heavy for a lot of marks, unsurprisingly plenty of colour.
Twelve members fished the four-hour evening match, including new member Joseph Harrison, Filey.
The all ebb match started a ½hr after HWater, 5.6m, Sandsend was just white water, so finding a fishable mark had to be chosen carefully, and hopefully there would be minimal weed.
A dark cloudless night, the swells were regular with no surging, weed/kelp and bladder rack was minimal, mainly fine green grass to foul leader knots and swivels.
Fishing was steady away, a mop every other chuck reported some.
Once the tide ebbed enough, a steady procession of lights made their way onto the opening scaurs to fish the tangle beds and gulleys.
At the scales Bernard Vasey recorded 40 codlings, 79lb 9oz.
Man of the Match was Davey Turnbull, Darlington, with both Heaviest Bag of Fish 17lb 1oz (5), and Heaviest Fish 6lb (the best fish to date for the Monthly Sweeps).
Dave Perrett, Whitby had a 4lb 11oz codling for the 'James Jamsy dedicated Official Trophy' beating his 4lb 5½oz codling from last Sunday.
Harrison showed his mettle on his first match with six codlings 11lb 1oz for joint fourth place on the night.
Leaderboard after six matches: 1st - Brian Harland - 46 fish 63lb 4oz, 2nd - Dave Perrett - 36 fish 57lb 12oz, 3rd - Col Stainthorpe - 31 fish 37lb 4oz, 4th - Ryan Collinson - 25 fish 37lb 2oz, 5th - Davey Turnbull - 10 fish 31lb 12oz, 6th - Dave Hambley - 12 fish 23lb 11oz, 7th - Peter Horbury - 14 fish 23lb 4oz, 8th - Jason Ebison - 17 fish 22lb 5oz, 9th - Joseph Harrison - 6 fish 11lb 1oz, 10th - Denis Thompson - 4 fish 11lb, 11th - Bernard Vasey - 5 fish 5lb 12oz, 12th - Steve Ingleston - 2 fish 4lb 2oz​​​​​​​​​​​​​​​​​​​​​​​​​​​​​​​​​​​​​​​​​​​​​​​​​