Bridlington Road Runners members from past and present ready to celebrate 40th anniversary
​The Bridlington Road Runners club will celebrate their 40th anniversary next month.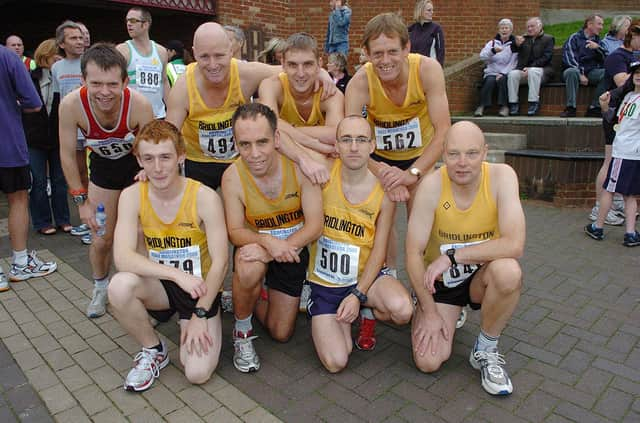 On October 23 1983 a record number of 1,600 runners entered the first Bridlington Half Marathon, writes Thomas Fynn.
At this time Bridlington were without any official running club, it was after this event that John Potter produced the idea of forming a club for the town.
John was so committed to getting a club up and running he even went and knocked on people's doors to gauge interest.
After putting in a considerable amount of effort, the Bridlington club was born, and the first meeting was held in the Seabirds pub on Forty Foot on November 29 1983.
Forty years later and still going strong, Brid Road Runners are to hold a celebration dinner at Bridlington Rugby Club on November 24 and are hoping for as many members and former club members to attend as possible.
The club has grown so much over the years, and continues to do so, Brid Road Runners' junior section has also seen a growth in numbers of recent and is producing stars of the future who are sure to keep the club alive for many more years to come.
The previous road half marathon routes have now been replaced with a hugely successful all new multi-terrain race, and even a 5k Sewerby sprint which took place earlier this month.
There are many iconic names that have been associated with the club over the years, and while we see many athletes today finishing races in just over two hours, the club's first-ever president Mike Hurd, who ran many international events, finished the Chicago Marathon in 2:13:17 in 1982 as M35, and the Jersey City Marathon in 1987 in 2:17:53 as a M40.
Within the club and to honour the founding members who are sadly no longer with us, there are many events that the club honour them with their own races, Eddie Knapp has a series of races during September as a club challenge with four races in four days, Mike Constable, who worked so hard for the club, is also honoured with a handicap race.
There is also an extraordinarily strong ladies' section within the Bridlington club, names synonymous with the Yellow and Blacks are the likes of Janet Potter, Cathy Wood, Katy Cawthorn to name just a few, and is really gathering momentum of recent with runners such as Jo Dagnan and Clare Gummerson being at the forefront in so many events.