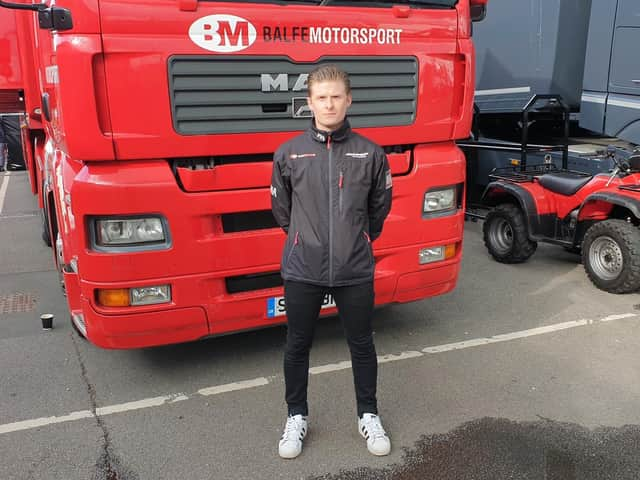 Ashley Marshall
The McLaren Customer Racing programme continues with Marshall (pictured above) and fellow rising star Jack Brown racing the #90 570S GT4 alongside the already confirmed Stewart and Lewis Proctor in the #5 720S GT3.
With a karting background, Marshall moved to the Ginetta GT5 Championship in 2016, competed in two campaigns with Optimum Motorsport before a switch to Xentek Motorsport in 2018 where he secured his first podium position.
The 2019 season was tricky, but he returned to the championship again in 2020 with Fox Motorsport, recording a best finish of fourth at Oulton Park. For 2021, it's an exciting new challenge with a new car, team, and series.
The season comprises of nine rounds of GT racing over seven venues. The first round takes place at Brands Hatch on May 22-23.
Marshall said: "I'm looking forward to getting started and the British GT Championship will be different from what I'm used to in Ginetta racing and to be joining a team as successful as Balfe Motorsport running a great brand like McLaren makes it extra special.
"I'm about to compete in what is probably the most competitive GT4 championship in Europe.
"It feels very much the right step – a natural progression for me as race driver – and after a lot of planning and thinking, it's surreal to think that I will actually be on the grid at Brands Hatch with Jack who's experienced and quick.
Ashley Marshall will be competing in the new Balfe Motorsport car this season in the GT Championship
"I think we'll be close in terms of pace as a driver pairing and I can only see lots of positives going into the new season."
Brown is new to Balfe Motorsport and first competed in the Caterham Tracksport Championship in 2015 where he secured five wins en route to fourth position in the championship. A switch to Ferrari Challenge Europe followed where he notched up a further 13 podiums over two-seasons, culminating in the runner-up position in the championship in 2019.
Following a year on the sidelines, the Nottingham-based driver now looks forward to getting back on track.
He said: "I'm really looking forward to racing again, it has been a long time and it's especially exciting to be racing on the full Brands Hatch GP track.
"For me, the fun element is the most important thing and as long as I come away from the races and the series as a whole feeling that we gave it our best, and the results are fair, then I'll be happy.
"I love the driving, but I have many other things to do outside of racing.
"The business is very important to me and I don't want the car to turn into my office.
"But yes, the racing does give me a great buzz, nothing comes close, not even running the road car down to zero fuel before going to the petrol station!"