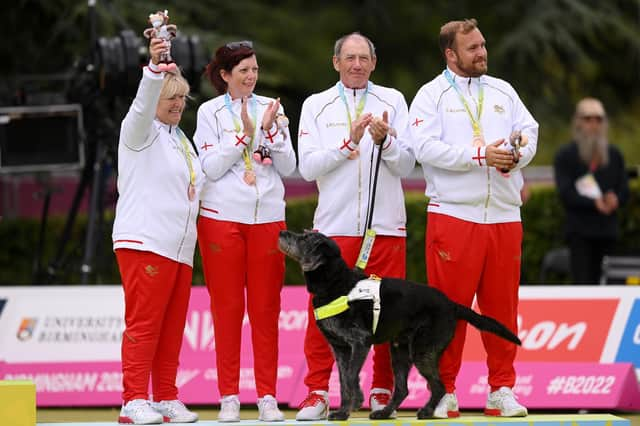 Bronze medalists Susan Wherry, Alison Yearling, Chris Turnbull and Mark Wherry of Team England celebrate on the podium. (Photo: Nathan Stirk/Getty Images)
Chris, alongside bowls partner Alison Yearling and directors Mark Wherry and Sue Wherry – who assist the players – beat Australia 14-11 in the B2/B3 mixed para pairs lawn bowls bronze medal match at Victoria Park in Leamington Spa.
Bowls England said the bronze medal win was an "amazing effort" from Chris and Alison.
Chris, 73 and a retired teacher, plays his games at Scarborough Indoor Bowls Centre on Peasholm Road. He has a sight condition called bilateral myopic macular degeneration, and at the age of 30 he was told by an optician that he had the sight of an 80-year-old.
Chris, alongside guide dog James. (Photo: Guide Dogs)
A keen footballer and cricketer – having previously played at county level and bowler and batsman for Yorkshire Council standard – Chris was introduced to bowls once his sight began to deteriorate in 1996.
He has gone on to excel in bowls and has represented England at three world bowls championships and in the UK singles visually impaired team, winning many medals.
Recently Chris has also represented Disability Bowls England in the Para Home Nations, accompanied by his guide dog James.
The 73-year-old was instrumental in making bowls more accessible for those with sight loss.
A white string is placed from one end of the rink to the other down the centre of the rink, this tells the player where the centre of the rink is. Visually impaired players with some vision will look for the string and use it as a guide, and those who have no sight at all can feel for the string.
Following an intense period of training and two-year trials process, various tournament and test matches, Chris was selected to represent England in March.
Speaking ahead of the Commonwealth Games, Chris said: "Being selected to play at the Commonwealth Games for my country is the pinnacle for me and such an honour.
"I feel great joy that I have been included in this talented Team England, especially at this inclusive Commonwealth Games.
"I can't wait to play! I'm very excited and a little nervous too. It would be the pinnacle of my sporting life to win a medal, preferably gold!
"It has taken time and now at the ripe old age of 73, I'm ready. Bring it on. Let the games begin!"