Dave Perrett and Dave Hambley net top WSAA League honours
Dave Perrett and Dave Hambley were the WSAA League Man of the Match winners for Wednesday and Saturday respectively.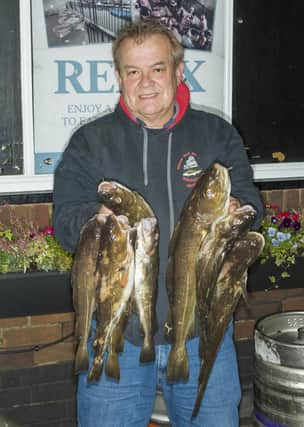 On Wednesday night there were weather warnings for Storm Babet, low pressure, ESEasterly winds 30 mph, gusting 50mph battering the coastline, writes Peter Horbury.
Sea state was six feet and growing, match started on HWater, three hours of ebb for the 14 members fishing the Singles Knockouts.
The outer reefs took some of the sting out of the swells, however there was some surging.
Finding a sheltered mark or a mark where the wind was not as strong and fishable was a challenge.
Some marks were totally ignored due to the large quantities of weed seen on the shoreline in daylight.
Man of the Match was Perrett, Whitby, with 9lb 6oz (7), his best weighing 2lb 2½oz.
Heaviest Fish of the night went to Neil Eglon, Whitby, with 4lb 4oz.
Knockout Results: D Perrett - 9 lb 6oz (7) beat D Goldsmith 0; P Horbury 1lb 3oz (1) beat B Vasey 0; N Eglon 7lb 1oz (2) beat J Ebison 0; B Harland 6lb 2oz (5) beat C Stainthorpe 2lb 3oz (2).
By Sunday Storm Babet had passed, the sea state was slowly abating, 4-6ft NEasterly.
Colour varied greatly from mark to mark. Gentle WSWesterly winds 5-13mph, cloud cover was minimal.
Thirteen fished the four-hour evening match, started in daylight with a reasonable catch forecast.
An all flood match, fishing to within ½hr of the top of tide. Surging, which spoilt the otherwise regular swell sets in the first half of the match.
As the depth of water increased, swells became erratic, not strong enough to keep pace with the flooding tide, coupled with the surges as the tide met the outer reefs, leading to periods of calm, discombobulated.
Sunday's Man of the Match was Hambley, Staithes, with 14lb 12oz (9) and Heaviest Fish was Neil Eglon, Whitby, with 5lb 15oz.
For the two matches the total weigh-in 131 lb 13 oz - 61 codlings, nine rocklings, five billets, and a blegg.
Leaderboard: 1st - Dave Perrett - 51 fish 80lb 6oz, 2nd - Brian Harland - 57 fish 78lb 4oz, 3rd - Dave Hambley - 26 fish 45lb, 4th - Col Stainthorpe - 38 fish 44lb 12oz, 5th - Ryan Collinson - 26 fish 38lb 6oz, 6th - Davey Turnbull - 10 fish 31lb 12oz, 7th - Jason Ebison - 20 fish 29lb 12oz, 8th - Peter Horbury - 20 fish 29lb 8oz, 9th - Neil Eglon - 5 fish 18lb 7oz, 10th - Denis Thompson - 6 fish 15lb 6oz.