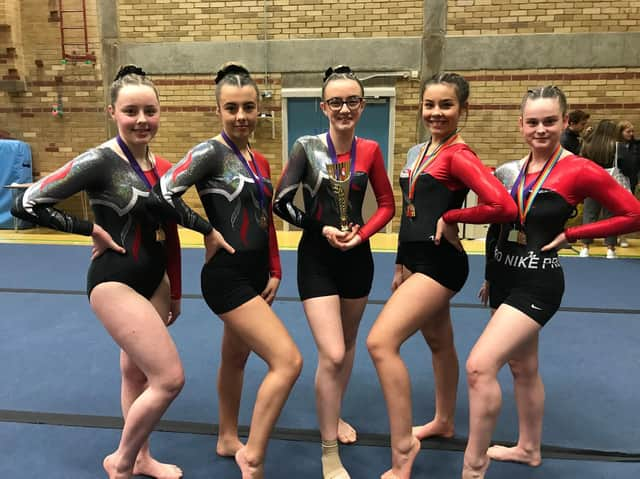 The Headlands Under-19s gym team which won a Yorkshire gold medal
The Under-19 girls team were first in their section, the Under-14 girls Team 1 finished second, the Under-14 girls Team 2 came fourth and the Under-14 girls Team 3 finished sixth.
PE teacher Rebecca Hoult said it was 'an absolutely amazing day with amazing results.'
She added: "My Headlands Gym team surprised me in the most amazing way.
The full Headlands School team line up at the Yorkshire finals at Hull.
"Not only did they win and qualify for nationals for Under-19 - which hasn't been done for five years - but they have improved so much in the few weeks since their last competition, included backflips for the first time, some even competed for the first time. Proud doesn't do it justice right now!
"All the gymnasts have worked so hard, training until 6pm and juggling production schedules at the same time. They have been fantastic."
The Under-19 girls were Lily Voase, Ellie Hughes, Jessie Hoggart, Grace Howarth and Sian Beswick.
Hoggart took the gold medal on the vault scoring 15.24 from 16 and Beswick took gold for the highest floor score with 15.43 from 16.
Hoggart was also the highest scoring Under-19 girl with a score of 30.54 with Beswick in second place with 30.27 and Hughes third position with 30.24.
The Under-14 Team 1 comprised of Sienna Collinson, Millie Beresford, Kelsie Atkin and Izzy Gregory.
Collinson and Gregory both scored 15.07 on vault in which they had the joint second highest score out of 47 girls.
Collinson was the fourth highest scoring Under-14 girl on floor with a score of 14.80. and Beresford put her round-off backflip into her routine for the first time after having moved up a team.
The Under-14 Team 2 members were Emily Wilkinson, Lily Hodgson, Lucy Croft and Grace Day.
Croft and Day both included their round-off backflip combination for the first time with great effect and the latter will now move up into the Year Eight/Nine team.
The Under-14 team was made up from Adrienne Collins, Lucy Jordan, Ruby Smith and Ellie McKendry
The first three Under-14s team-members all improved their scores from previous competitions and McKendry, who was taking part in her first event, getting the highest score in the Headlands team with an excellent score of 14.74.