National record helps Sarah Monteith win English Field Archery Association 3D Championships gold medal
​Scarborough archer Sarah Monteith claimed a national record on her way to winning a gold medal in her first-ever appearance at the English Field Archery Association tournament at Long Eaton.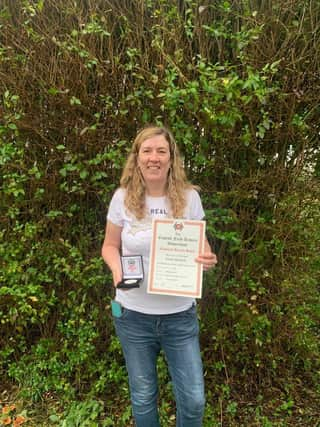 Monteith said: "I travelled to Long Eaton Field Archers in Leicestershire to take part in my first ever English Field Archery Association (EFAA) tournament - the 3D Championships. EFAA shoot similar rounds to the round I usually shoot in the National Field Archery Association at my field archery club in Bridlington - Regent Archers, but over longer distances and at smaller targets.
"The first day was a tricky Precision 3D round (two arrows per target at distances of up to 60 yards). I shot welI and scored 269 for the round and was in the lead in the Ladies Bowhunter Recurve category overnight.
"I returned to the club at 7.45am the next morning after scraping the ice off the car windscreen in 3c.
"The second day of the Championships I was shooting with the same two ladies from the first day (as you compete with people who shoot in the same category as you).
"We were shooting a Marked 3D round this time (a maximum of three arrows per target, the first one to hit scores).
"I shot steadily and managed to score mainly 1st and 2nd arrows throughout the day.
"By the second to last target I realised I was in with a good chance of breaking the national record for the round (492) which was set in 2008
"I knew I needed to score on my first or second arrow in order to take the record. After a short delay due to groups ahead of us queuing, I managed to shoot and hit the target with my first arrow for 18 points giving me a total of 508 for the round.
"I was really pleased to have been able to break the record as it's the first time I've broken a national record, though I've come close a couple of times before.
"My total score for the weekend was 777 and I won the Ladies Bowhunter Recurve gold medal.
"It was a great weekend overall and I came away feeling fantastic.
"I now have a lovely certificate to officially recognise that I broke the Marked 3D round national record too. It was a great weekend and a fantastic start to my archery adventures with the English Field Archery Association.​​​​​​​​​​​​​​​​​​​​​​​​"