Scarborough Athletic Club's Andrew Hopper sparkles at North Yorkshire Water Park parkrun
Two Scarborough Athletic Club members competed in the Wistow 10K road race on Sunday.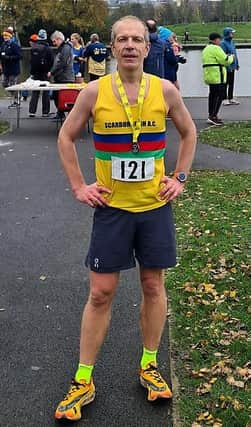 Mark May was 62nd overall of 352 and fifth over-60 in 44.05, writes Mick Thompson.
Brenda May finished 73rd female overall in 64.39 and ahead of 56.
Sixteen SAC members took part in the latest North Yorkshire Water Park parkrun at Wykeham, and those that did so were rewarded with mild dry weather, but the recent incessant rain resulted in plenty puddles in the usual early part of the course.
Andrew Hopper was the first finisher for the club in sixth overall of 151 and first Over-50.
Rebecca Dent was the club's first female and third overall of 66.
Other male results; J. Hopper 23rd, M. Pepworth 1st Over 55 with a PB, D. Lester 8th Over-50, R. Grainger 11th Over-50, P. Shepherdson 12th Over-50, R. Broadley 1st Over-75, P. Barnard 5th over-55, M. Thompson 2nd Over-80, R. Gough 1st Over-70.
Other female results; G. Glegg 3rd Over-60, A. Metcalfe 4th Over-60, L. Lester 6th Over-45, M. Pepworth 8th Over-50, N. Edmond 5th Over-55.
Helpers; E. Fordyce, R. Glover, H. Grainger, S. Villiers, Chloe Waite, Chris Waite, E. Waite, J. Waite
Harry Whitehouse was second Over-70 at Dalby Forest parkrun.
At Sewerby parkrun, Pauline Elliott finished 30th of 75 females and eighth Over-45.
Alan Keenan was second Over-75 and Pat Keenan third Over-70.
At the Whitby Cinder Track parkrun, Matt Rutt was 11th overall of 127.
Juliette Pilgrim was 11th of 49 females, and David Fox was second Over-70.
At the York parkrun, Scarborough AC's Megan Lewis was third female overall of 269, and at Endcliffe Sheffield parkrun, Giulia Wilkins was 30th female overall 262 and fourth Over-45.
At the Oldham parkrun, SAC's Kevin Hutchings was the fourth-placed Over-55, at Cleethorpes parkrun Ian Spence was fifth overall of 165, at the Knaresborough parkrun, Robert Preston was 10th overall of 113 and at the Heslington York parkrun, Aaron Padgham was 22nd overall of 281.