Scarborough Athletic Club's Jackson Smith sparkles at Leeds Abbey Dash
Three Scarborough Athletic Club members took part in the Leeds Abbey Dash, one of the top 10K road races in the North of England.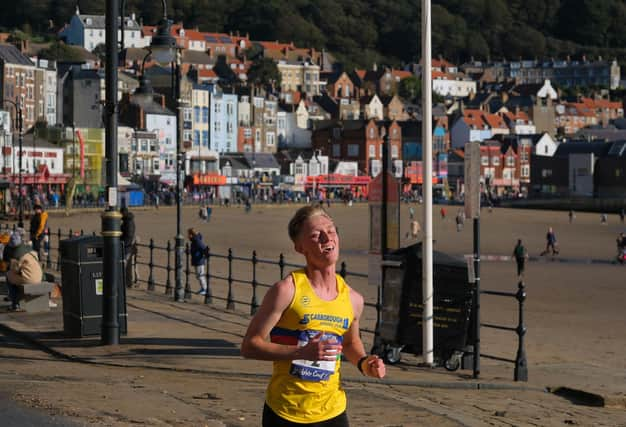 Jackson Smith finished in 33.00, which was 49 seconds faster than his his time as runner-up at the Yorkshire Coast 10K, and just outside his PB, as he was placed 102nd overall of 5,049, writes Mick Thompson.
Sean Kelly finished in 36.34, his best time for the distance this year, and was second Over-55 and is likely to be ranked in the top 10 of the next published UK rankings. David Lester improved his time at Scarborough 10K with a PB of 48.55.
Three club members joined 2,693 runners at the latest edition of the popular Run for All 10-Mile Road Race in York.
Victoria O'Neil led the trio with a PB 88.13, Denise Bailey, 115.33, and Evelyn Fordyce, 115.35, both achieved debut PBs.
Twenty-seven SAC members took part in the North Yorkshire Water Park.
The first to finish for the club was newcomer William Anderson, making a notable SAC debut, finishing first overall of 160. The club's first female was Hester Butterworth who was second overall of 66 and first O50 with a PB.
All other male results; M. Middleton 8th, M. Rutt 12th, D. Smart 1st Over-55, J. Hopper 17th, A. Padgham 23rd, D. Leaming 9th Over-50, D. Lester 10th Over-50, M. Pepworth 6th Over-55, P. Shepherdson 12th Over-50, R. Hyde 15th Over-50, R. Grainger 17th Over-50, M. Padgham 6th Over-65, R. Gough 3rd Over-70, S. Garlick 6th Over-60
All other female results; S. Noble 5th, R. Frank 3rd Over-50, M. Padgham 1st Over-60, R. Marshall 4th Over-40 with a PB, S. Houghton 1st Over-65, M. Pepworth 11th Over-50, N. Edmond 12th Over-55, W. Pattison 12th Over-50, H. Casey 4th Over-60, C. Waite 4th 10 Years, E. Waite 8th Over-40
Helpers; G. Barnard, P. Barnard, H. Casey, Fordyce, S. Garlick, R. Glover, M. Pepworth, C. Waite, E. & J. Waite
Robert Preston was third overall of 96 with a PB at the Cinder Track (Whitby) parkrun, while Linda Hinchliffe led a trio at Sewerby with 43rd female and 12th O50.
Mary Slater and Pat Keenan were 1st and 3rd O70.
At The Hague (Holland), Suzanne Villiers was 33rd female and 4th O60, at Wolverhampton East Park, Harry Whitehouse finished 2nd O70, and at Windermere Newby Bridge, Carey Bilton was 69th of 102 females and 6th O45.