Scarborough kickboxing star Limerick Goodwin makes history with ICO World Championship wins
Scarborough's Limerick Goodwin has made history by becoming the first deaf kickboxer to win two ICO World Championship titles.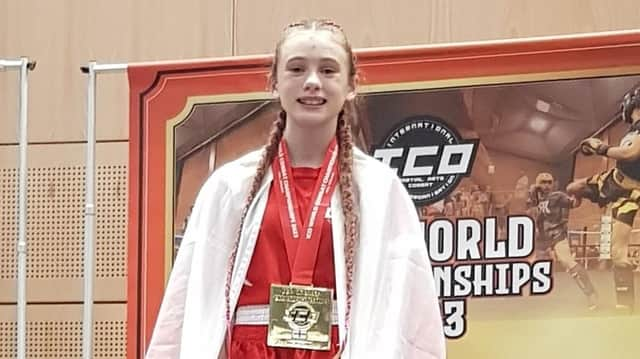 Twelve-year-old Limerick, who is currently a six-time World Kickboxing Organisation world champion, secured her latest titles at the ICO (International Combat Organisation) World Championships last weekend at Hull University.
The St Augustine's School student came home with two gold medals, as well as a silver in points fighting and a bronze in continuous fighting.
Proud mum Natalie said: "The head of the international combat organisation, Andrew Hennessy, has confirmed she is the first deaf person to have won gold medals under the ICO.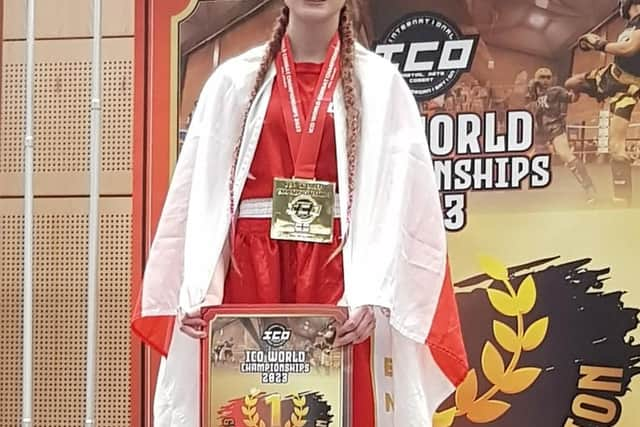 "I am so proud of her and seeing her standing on that podium wearing the England flag with the national anthem playing in the background was an amazing experience.
"All her hard work and training is definitely paying off and she is bringing home all these wins and titles and it just proves that having hearing loss does not effect her ability to train, fight and win, like everyone else does.
"She had to fight her way through some big categories and fight multiple opponents for each category for her to be able to come home victorious.
"This was all under the watchful eye and guidance of assistant coach Liam Johnson who coached her using her roger mic radio aid system.
"She only has one more competition this year and that is the WKO British Titami Championship at Barnsley Metrodome in November. But we already have many competitions in the diary for next year and some of which she hasn't competed at since 2019."
Limerick's head coach Kris Crump was also full of praise for his student.
He added: "Limerick is an unbelievably talented young lady!
"Her dedication and hard work pays off every time racking up yet another two world titles this weekend at the ICO World Championships!
"She is a pleasure to teach and a dream student to coach! I'm very proud of her achievements and the person she has become."
Earlier this year Limerick was also named as the 2022 Young Deaf Sports Personality of the Year Award.
She was presented with the award at The Deaf Sports Personality of the Year award ceremony at Twickenham rugby stadium.