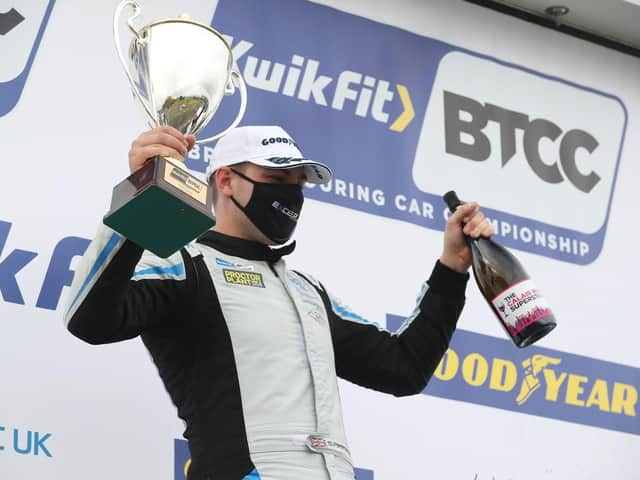 Senna Proctor, inset, celebrates his best performance of the BTCC season, a second-placed finish in race three at Knockhill. PHOTOS BY EXCELR8 MOTORSPORT
Here, we take an in-depth look at the events of 2020.
Excelr8 Motorsport announces Proctor as their first driver for 2020 in their brand new Hyundai i30N Performance Fastback in the BTCC.
The Excelr8 Motorsport driver Senna Proctor in action. PHOTOS BY EXCELR8 MOTORSPORT
Team owner Justina Williams said:"We are delighted to have attracted Senna to our team, he is proven in BTCC and will now help lead our new Hyundai i30 development."
Pre-season testing. 12th and 13th March
At shakedown day and test day at Snetterton, Senna gets his very first drive of the new car.
A day of checks then a full day running through an extensive testing and development plan for the Hyundai.
The following week a media day at Silverstone was held behind closed doors due to escalating concerns with Covid-19.
Senna makes an immediate impact with top 10 pace from session 1 and the Excelr8 team are delighted with their new car and driver, but the BTCC season was suspended shortly after due to Covid-19.
In a bid to keep sharp and focussed on racing Senna plunges into the highly competitive world of online Sim racing with a PureSims system from home during Lockdown.
He enters the MSL Motorsports Consultancy Touring Cars eSeries alongside fellow track racers and Online Sim racers.
Despite missing two races he finishes third overall after 10 rounds of racing.
A late start at Donnington. 1st and 2nd August
The delayed Rounds 1, 2 and 3 at Donnington take place behind closed doors but a poor meeting for Proctor with an engine problem in the first race.
He missed the second race with an engine swap still underway and a puncture forced him out of the final race of the day when running well.
Brands Hatch GP. 8th and 9th August - Rounds 3, 4 and 5 at Brands Hatch (GP layout).
A return to form for Senna in sweltering hot conditions.
Three top ten finishes and showed the raw pace and competitiveness that pre-season had promised.
Oulton Park. 22nd and 23rd August
Just a week off and then back into the race action for the BTCC at Oulton Park in Cheshire.
With dark skies and unsettled weather another impressive outing for the 22-year-old.
Another three points finishes and in race three an impressive drive to sixth, showed a cool head to pick off after overtake, including five places gained on the first lap alone.
Knockhill. 29th and 30th August
Landmark 99th, 100th and 101st outings in the BTCC and yet another three points scoring finishes with the highlight of the season so far with a top performance to land a well-deserved podium with second in race three.
Thruxton in Hampshire. 19th and 20th September
After a short summer break the long trip to Thruxton in Hampshire which is the fastest race circuit in the UK and another favourite for the driver of the number 18 Hyundai i30N.
And yet again solid points in all of the races and at a track where the car set-up is like no other encountered elsewhere.
Silverstone. 26th and 27th September
Senna's debut season in the Draper Tools and Proctor Plant Sales sponsored i30N Performance continues well with more points from all three races.
He saved his best until last with a charge to sixth and one magical overtaking move took him past four cars in one go.
Croft. 10th and 11th October
A stunning front row of the grid qualification session ended with a penalty for a ride height infringement and a start from 27th and the back of the field not the front.
He was on the attack from the start and made up numerous places that allowed him a pair of top 10 finishes and more points to maintain his standing in the top dozen in the BTCC.
"It's great to be picking up two top tens again, especially at Croft, my home circuit. Saturday was unfortunate, but I hope I did the team proud; they did a fantastic job in setting the car up for us to move forward."
Snetterton. 24th and 25th October
The home track for Excelr8 Motorsport is Snetterton in Norfolk and the longest lap on the BTCC calendar at nearly three miles long.
Consistency is the word again as Senna scores points in all of the races to maintain his position in the championship alongside some big names in far more established teams.
Season finale at Brands Hatch, 14th and 15th November.
In very changeable weather conditions. Pushing too hard too early Proctor slides off the track early on in qualifying and is stranded in the gravel.
A starting place from right at the back of the grid was not the plan.
Very difficult wet conditions on a short and tight track on the Sunday made for a dramatic climax to the season and Senna rounded off his 2020 campaign with a final push and race two his highlight of the weekend with 11 places gained and a finishing position of eighth out of 27.
At the conclusion of his season Senna said: "It was fantastic to help the team achieve fifth place in the Independents standings as well as seventh in the Overall Teams Championship.
"Without Draper Tools and all our sponsors investing in what we do, as well as the platform the BTCC provide for their marketing, it wouldn't be possible to do what we do. Thank you to everyone who has been behind us this year."