Simon Burnley and Hester Butterworth lead the way for Scarborough Athletic Club at Welton
Eighteen Scarborough Athletic Club members competed in the second round of the East Yorkshire Cross Country League was held on an extremely muddy 6.5 mile course at Welton.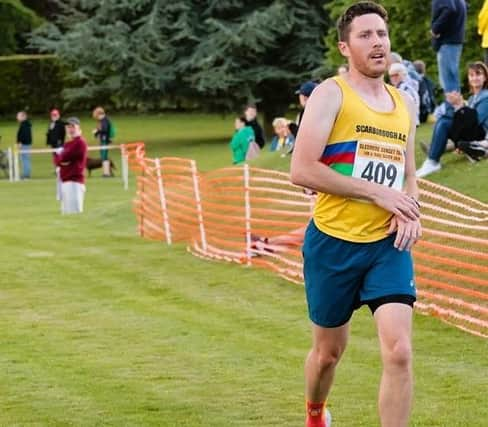 The men's team was led by Simon Burnley who was 55th male overall of 214, writes Mick Thompson.
He was followed by; Dale Hepples 76th, Chris Duck 93rd, Jackson Smith 106th, Mark May 109th and Robert Grainger who closed in for the team which finished 9th in 111th.
The women's team was led by Hester Butterworth who was 14th female overall of 142 and 1st Over-50.
She was followed by; Sue Haslam 34th and 1st Over-65, Fay Hethershaw 39th and Sarah Noble who closed in for the team which finished 7th.
The Men's team was backed up by; Ian Spence 119th, Neil Scruton 124th and 1st Over-75, Paul Lawton 128th, Duncan Smart 138th, David Field 163rd, Adrian Atkinson 184th.
The Women's team was backed up by; Ruth Frank 78th, Jane Hamp 79th and 2nd Over-65. Melanie Padgham 92nd, Sally Kingscott 127th
Two club members competed in a Hardmoors 10-kilometre Trail Race, which started and finished in the village of Goathland.
What was a very muddy and testing course included Mallyan Spout waterfall and part of the Lyke Walk.
Andy Southwick finished 13th overall of 49 in 74.23. Paul Thompson followed in 22nd overall and 2nd Over-60 in 81.21.
Eight club members competed in the Dalby Dash, which is an annual 10km race in Dalby Forest in aid of Help for Heroes and Pickering Rotary Club, in association with Pickering Rotary Club.
Robert Preston led the club member after finishing 9th overall of 409 in 36.39.
Julia Webb led the four club females when finishing 10th Over-60 in 58.54.
Other male results by gender; M.Middleton 46th, D.Lester 115th. M.Pepworth 140.
Other female results by gender; L. Lester 150th, S. Villiers 171, M. Pepworth 205.
After six rounds of the SAC Summer Handicap Races, the individual race and series winners were presented with their prizes at the Scarborough RUFC.
The overall winner was Aaron Padgham, Ellie Waite 2nd and Ryan Sheader was joint third with Simon Burnley
The Fastest Male was Robbie Preston, and the Fastest Female was Anna Gidding.
Individual Race Winners; Race 1 Andy Doody, Race 2 Steve Cunningham, Race 3 Paul Grahamslaw, Race 4 Val Parkin, Race 5 Sharon Parsons, Race 6 Jennie Trown.
Elizabeth Amos was joined by her 13-year-old son Finley Amos at the Alton Towers 5K Race.
They were both timed at 36.53, which for Finley who ran his longest ever distance, and so could claim as a Personal Best (PB) time. ​​​​