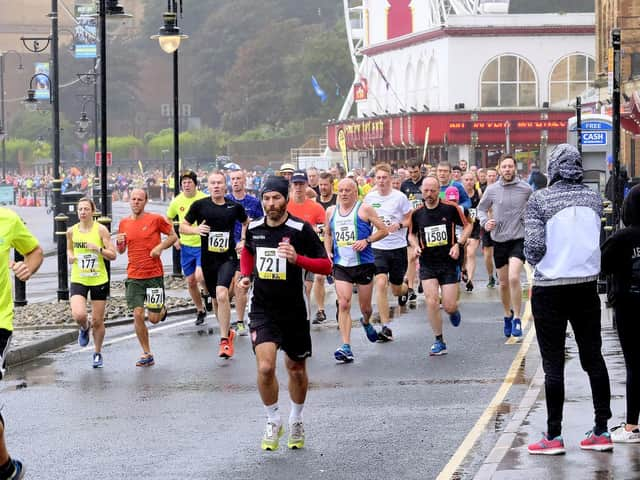 The early stages of the 2019 Yorkshire Coast 10k
Starting at 10am, participants will make their way around the Marine Drive, to the Sea Life Centre, returning via the North Bay promenade.
There will also be two shorter Fun Runs taking place at 11.30am and 11.50am.
The 10K race filled its 2,000 places within a week and there are currently over 100 junior Fun Run participants registered.
Runners can still enter the Fun Run on the day; under -15s can run either the 2.5km or the 1.6km route for free and adults can enter either Fun Run at a cost of £5, while the 10k runners can do either for free.
Double Paralympic Gold medallist for rowing, Laurence Whitely, will be the race starter for the 10k.
This year's event has been planned with sustainability and waste reduction as a priority.
Every runner in the 10k race has a UK tree planted in their name as part of the race entry.
Head sponsor McCain has also matched each runner's tree.
Jennifer Domett from McCain said: "We're really proud to have supported the McCain Yorkshire Coast 10k for the past 12 years – and this year we've committed to plant an additional tree for every race entry, including the free family fun runs – so we're looking at over 4,000 trees in total.
"We're delighted to be contributing to a sustainable reforestation project whilst supporting one of the area's favourite local events."
The race organisers have gone above and beyond to look at every opportunity to be sustainable in this event.
The race medal is UK sourced and made from FSC certified forest wood this year, and any runner not wanting their medal can leave it with the organisers who will recycle it.
In order to not have t-shirts going to waste, which is a common issue at race events, the entry fee was lower and t-shirts were charged at an additional cost.
Water along the route and at the end of the race is supplied by local store, Proudfoots.
The bottles are made from recycled plastic and Scarborough Borough Council will recycle all used bottles.
Vantage Motors are also providing an electric car to act as the race lead vehicle.
Covid has been a significant consideration in this year's event planning.
The race organisers have planned in-line with advice from NYCC and are certain the event is as safe as it can be.
Various measures have been taken, including remote warm-up solutions, extra toilets due to no access to The Spa and asking that spectators watch along the course, as they're unable to congregate at The Spa.
The event is organised by Scarborough Athletic Club. It takes months of planning and the club puts forward over 100 volunteers on the day to make it a safe and successful race.
As usual, Scarborough AC are making contributions to local charities with the event proceeds, and in addition they are also planning to help local schools with their sports programmes through a series of grants for equipment.
Race Directors Alan Whelan and Danny Walls said: "This year, our goals for the event have been around encouraging youth sports, focusing on sustainability, shopping local wherever we can and reducing waste to a minimum.
"We'd really like to think we've achieved this and give great thanks to our races sponsors for their continued support."