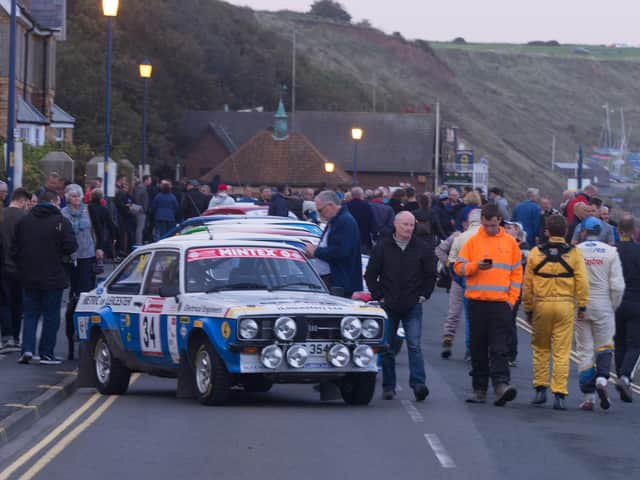 The start of a previous Trackrod Rally Yorkshire start at Filey
A Trackrod Motor Club press release said: "Trackrod Motor Club regret to announce that the 2020 Rally Yorkshire, scheduled for 25-26 September, will not go ahead due to continued uncertainties surrounding the Covid-19 pandemic.
"We have closely monitored the advice from Government and Motorsport UK and we are sure that all the implications are well understood without the need to detail them here.
"Uppermost in our minds is the safety of all concerned in running a complex event involving many people and outside agencies. Whilst we had several "Plan B" scenarios, time has overtaken us and it is now the appropriate time to make a decision.
"The whole team are extremely disappointed but take this opportunity to express our thanks to the Championships and everyone who had committed to the event including the many officials and volunteers who support us.
"September 24/25 next year will soon be with us and we look forward to welcoming everyone back."
The Trackrod Rally was first staged in 1977 and has always welcomed almost every kind of vehicle allowed to compete in Motorsport UK licensed rallies
This year the start and finish were again due to take place along the sea-front in Filey with loose surface, forest stages all within the North York Moors (Dalby, Cropton, Langdale, etc). Previous host venues have included York Racecourse, Leeds, Scarborough, Malton and Pickering.
In recent years it has formed the final and decisive rounds of two of the major national championships: the British Historic and BTRDA Championships.
In the past the event was part of the British Rally Championship and been contested by almost all of the biggest names in domestic and international rallying, including a handful of former World Champions.
Competitors last year ranged from teenagers to a couple in their 80s. Cars taking part ranged from the early sixties 'classics' to present day high-spec vehicles
Only once previously has the Trackrod Rally Yorkshire been forced to cancel - due to the outbreak of Foot and Mouth Disease in 2001.