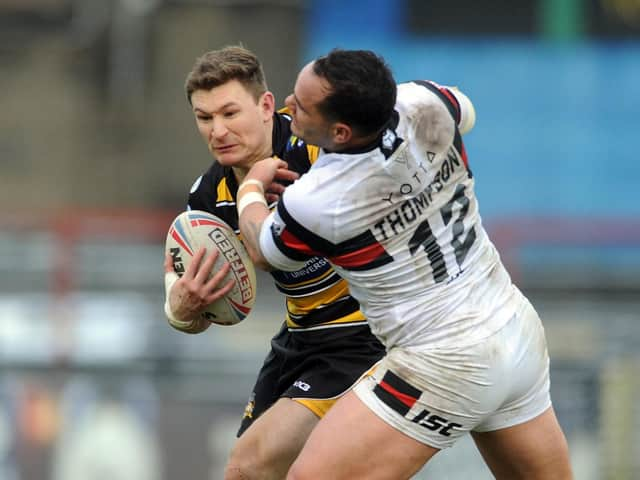 Kriss Brining in action. Picture: SWPix
Brining was forced off with a hamstring injury after earlier touching down in the Knights' 30-6 Challenge Cup victory against Sheffield Eagles and had to watch on from the stands as his teammates progressed further in the competition after a 14-2 win over London Broncos.
Brining is awaiting a scan on his hamstring this week but doesn't expect to be fit for York's Championship opener at home against Toulouse Olympique at their newly-opened LNER Community Stadium on Saturday.
"I just hurdled over someone and felt the hamstring go - it looked liked I'd been shot," said Brining, who played for the Scarborough Pirates as a youngster.
"It's a frustrating time to get injured as we hadn't played since last March and I was feeling good before it happened too, and we also have the Wigan game to look forward to now.
"I've got to wait for this scan now to see how long I will be out for - hopefully it's not too bad and I can be back sooner rather than later.
"I played against Wigan a few times when I was at Salford, in fact my debut was against them and I managed to score, so it would be nice to make it back in time for that one."
Brining is impressed with the Knights' new home at the LNER Community Stadium - shared again with York City FC - and admits it has been a long time coming.
Brining looks to pick a pass. Picture: SWPix
"I remember when I first signed for the club there was a lot of talk of the new stadium being just around the corner," added Brining.
"It has definitely been a long time coming but it's great to finally be in the new stadium and it's an incredible facility.
"I loved it at Bootham Crescent, it was a really good atmosphere and the pitch was good too, but the changing rooms and facilities weren't great.
"Hopefully we can get fans back in sooner rather than later too."
The Scarborough man is also hoping the Knights can push for promotion this season.
"That has to be the aim of all the teams in the division," he added.
Brining, 27, has also expressed his delight at the imminent return of the Scarborough Pirates after a short spell out of action.
"I grew up playing for the Pirates and all three of my brothers have played for the club, so it was sad to see them fold," added Brining.
"It's great to see that they are re-forming and returning to action this summer and I will definitely be planning to get across and watch some of their matches when I can."