Scarborough RUFC coach Matty Jones pays tribute to club stalwart Dave Campbell
Scarborough RUFC supporter and volunteer, and former Scarborough News rugby reporter, Dave Campbell has passed away at the age of 77.
Thursday, 24th June 2021, 7:58 am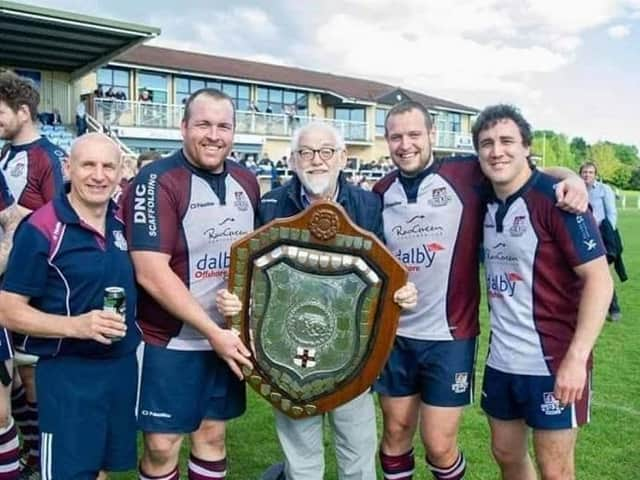 Dave Campbell, centre, with, from left, former coach Simon Smith, Matty Jones, Tom Ratcliffe and Tom Harrison after Scarborough RUFC's Yorkshire Shield final win in 2018
A familiar face at the rugby club for many years, Campbell was involved with all aspects of the club and will be sorely missed by many.
1st XV head coach Matty Jones has paid tribute to the stalwart, who followed the highs and lows of Scarborough RUFC.
He said: "The news came as a massive shock to everyone and it's so sad that Dave has passed away.
"He's such a big part of the community and it's hard to think that we will never get to say goodbye to him.
"Dave was always so open and honest on social media and I've definitely missed our face to face chats."
Campbell had been involved with the club for more than 40 years, devoting his time and effort into all aspects of the club.
From a match day reporter, to his Scarborough News articles, Dave was a fan of all sports.
"Dave definitely made the club what it is today and he has brought new supporters to the club," Jones added.
"I know sometimes we didn't see eye to eye, but he voiced his opinion and loved to be in and around the club throughout the year.
"The stand at Silver Royd will not be the same, but as a club we have to come together and celebrate his life and his achievements."
"'From the touchline by Dave Campbell' was his way of keeping the local community entertained and filled with their regular rugby news.
"He fought hard and battled a lengthy illness, but his smile was as contagious as they come.
"It'll be really nice to keep Dave's legacy going and always remember him at the club.
"When overseas players came over to the club, Dave would always make them feel extremely welcome and he took care of them.
"I'd like to give my personal thanks to him, he made feel so welcome in Scarborough and my family can't thank him enough."
Scarborough RUFC also paid tribute to Dave on Monday.
The statement read: "It is with great sadness and a very heavy heart that we announce the death of Dave Campbell who died on Saturday 19th June at the age of 77 following a long battle with cancer.
"Dave was a very familiar face at the club, having been involved for more than 40 years working as our volunteer match day reporter, press officer, and photographer and he was known across the borough and beyond for his weekly Scarborough News articles 'From the Touchline'.
"Dave had a long career with the RAF and had been stationed around the world before settling in Scarborough working at the 'Wireless Station', otherwise known as GCHQ.
"He was a fan of all sports but held a great affection for Scarborough Rugby Club.
"He was a dear friend to many and will be sorely missed by all who knew him.
"Our deepest sympathies and prayers are extended to Dave's wife Di and all of his family and friends.
"Due to the current national lockdown restrictions we are presently unsure of further arrangements but we will update all members once we have any more details. RIP Dave."