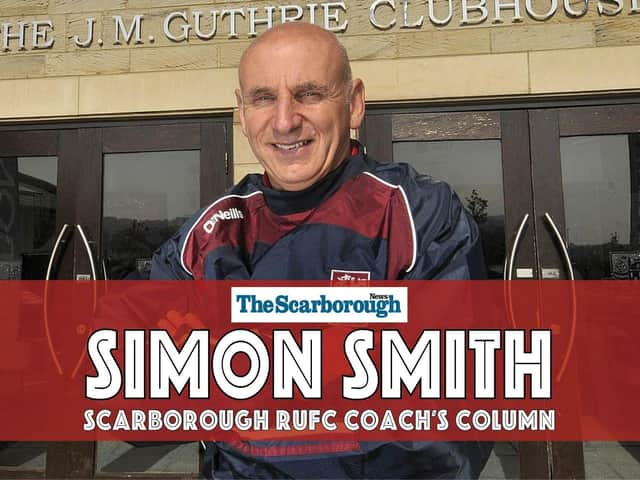 Simon Smith's weekly column
As a team we were left extremely disappointed after Saturday's game, we didn't play anywhere close to how we know we can and that's not good enough.
All credit has to go to Pocklington, they turned up and got their tactics right.
We let them dominate us as a team and they were able to dictate upfront which meant that we struggled to get hold of the ball.
We had chances throughout the game but they deserved the victory.
The weather wasn't at its best but it was the same for both teams and we need to be able to adapt in situations like that.
Across the season so far our standards have been high and if you drop them you risk getting beat.
Scrum-half Jordi (Wakeham) came off midway through the second-half but is mending quickly after sustaining a knee injury.
Young flanker Euan Govier suffered a broken bone in his hand during the game also, and he looks likely to be ruled out of action until the new year.
It was also good to give Komiti (Tuilagi) a run-out on Saturday. Everyone got to see a snippet of his capabilities and we hope he will go from strength to strength and continue to improve.
We want to ease him into the first-team as he needs to get used to the game over here and the playing conditions at this time of year.
This weekend gives us a chance to rest up which is a nice position to be in and it means we can re-introduce players into the squad who may have previously missed out with injuries or availability.
Having those players back could bring a buzz to the team as we go into the second half of the season.
We have to focus our attention to two tough games starting at rivals Malton & Norton a week on Saturday and then Bradford & Bingley at home to December 14.
Malton got one over us at home so we will need to be at our best in order for us to pick up the right result.
Finally, I would just like to mention the fabulous turn out for Ladies Day, to raise over £1,000 for charity and then to contribute with £240 for Movember is a fantastic effort by all involved.
The atmosphere was fantastic and certainly gives us a boost.