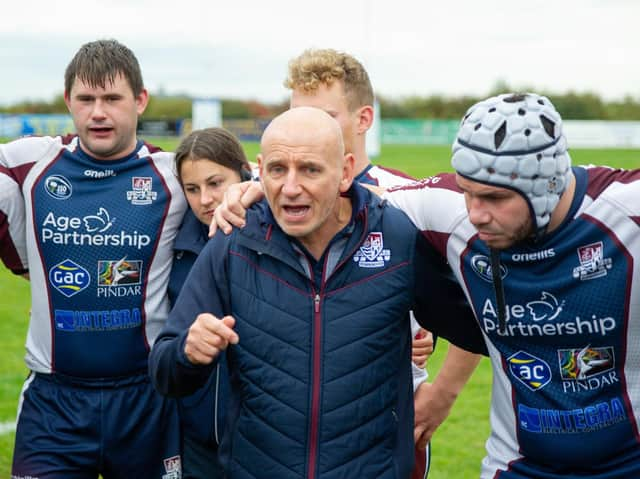 Simon Smith has stepped down as head coach of Scarborough RUFC
Smith has overseen a hugely successful three years during his tenure at the club.
In his first season in charge, Smith achieved promotion from Yorkshire One as runners-up and also guided the club to Yorkshire Shield success.
Despite setting a target of surviving in North One East, Smith then guided Scarborough to the runners-up spot, eventually losing a promotion play-off at Blackburn.
Smith's final season saw him consolidate the club once again in North One East, albeit with the 2019/20 prematurely halted due to the coronavirus outbreak.
Smith, who informed the players of his decision via a video message, said: "This hasn't been an easy decision, but it's something that had been discussed between myself and the club around Christmas time.
"I wanted to wait to inform everyone until we'd made sure of staying up in North One East, and now that the season is over, is the right time to do so.
"It has been an amazing three years in the role, I couldn't have asked for more.
"One thing that pleases me the most looking back is the togetherness at the club, I'm stepping down with things in a better position now."
Smith revealed family commitments and a change in circumstances as the sole reason behind his decision.
He added: "My circumstances have changed quite a bit in the three years since I returned from the USA.
"My partner Louise has moved down to Scarborough with her twins, and my grandkids are also getting older, so I need to spend more time with them.
"It's a time-consuming role being head coach, with often three nights commitment during the week and then games on Saturdays, and it isn't a role I would want to do at any less than 100%."
Smith was quick to thank the club's players, support staff and supporters.
"I can't thank the players enough really," added Smith.
"They have really bought into what I wanted to do at the club and have achieved so much during my time with them and I wish them all the best going forward.
"Everyone behind the scenes has been fantastic, in particular Matty Jones, who was a big reason behind me taking the role on and helped me enormously.
"The supporters have also been fantastic and I know they have enjoyed the rugby we have tried to play too.
"Even during a more challenging season this year with the injuries we have suffered and some challenging results, they have still turned up both home and away in big numbers and haven't got on the backs of myself or the players."
Smith is hoping to stay involved at the club in some capacity.
"I'm certainly not walking away from the club," he added.
"I have discussed a role helping out at the club already and I'm also looking forward to being a supporter of Scarborough RUFC when rugby gets back under way."
Scarborough RUFC's assistant director of rugby - senior, Phil Stewart was quick to thank Smith for his efforts during his tenure at Silver Royd.
Stewart said: "Everyone at the club wishes to thank Simon for the commitment, passion and energy that he brought to the senior teams.
"When Simon came to the club he spoke about winning trophies.
"We're incredibly proud of what we have achieved with him as head coach.
"He'd be the first to admit that he couldn't have done it without the hard work of many club staff and volunteers, however it's testament to his coaching and his personality that the club has really thrived under his leadership.
"Clear highlights of his time in charge would be promotion and the Yorkshire Shield win in his first season which were both brilliant achievements for everyone involved.
"We wish Simon all the best in the future and look forward to keeping him involved in rugby as much as his time allows."