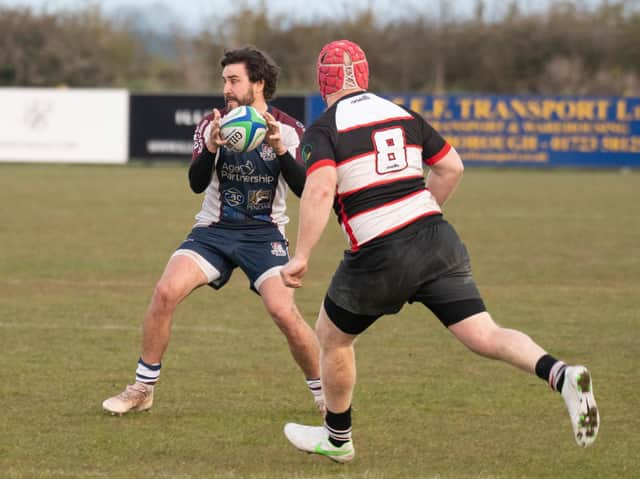 Tom Harrison in action against Malton & Norton Photo by Andy Standing
The full-back has had a tough couple of years at Silver Royd, but having shaken off a long-term injury, he's keen to play a big part in the club's future.
He said: "I am delighted to be a part of the squad and all I want to do now is play rugby.
"I think I've worked out that I have played about seven games in the last three years, and now I'm one of the oldest members of the squad.
"For me it's great to be involved and I told Matty (Jones) that all I want is to get out onto the field and help the lads."
Harrison left his own mark on Friday night's 19-12 loss against Malton & Norton at Silver Royd with a brilliant solo try that reduced the deficit between the two sides.
He added: "It was nice to bag a try especially in such a competitive game.
"I guess the scores are irrelevant in friendly games and it's all about enjoying it and outing into practice everything that we've been working on in training.
"There's plenty of new players in the side and I try and use my experience to help them."
The 19-12 scoreline isn't something that Harrison is worried about, and he admits that it was great to be back out playing rugby again.
"It was definitely a tough game but it was really nice for everyone to get another game together,
"Friday's game against Malton was a big step up from the Goole game and it's still taking us some time to adapt to the law changes in the game."
Matty Jones' side travel to The Gannock to tackle Malton on Friday night as they look to immediately bounce back from last week.
He said: "It's going to be a really tough game but we are looking forward to getting out there again.
"It's been a very tough 14 months and hopefully these friendlies will develop our young players and allow us to keep building as a squad."