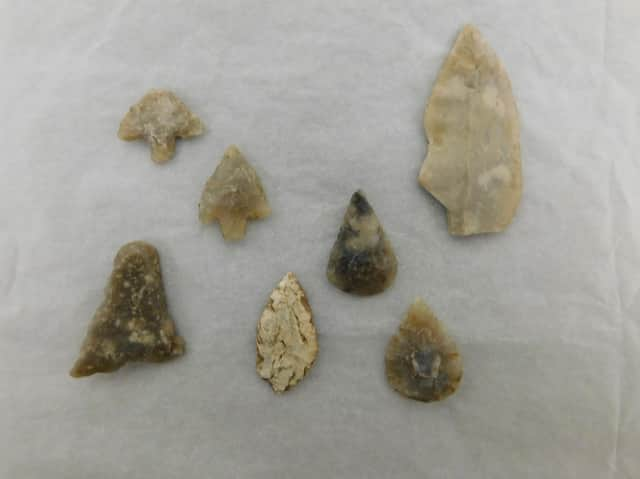 Flint arrowheads
Working alongside the museum's team of curators the poetry festival has unearthed 30 museum artefacts from or related to the East Yorkshire Wolds, including a Viking gold ring, a Victorian police truncheon, silver Roman coins and Neolithic arrowheads.
All of the objects can be seen on the festival's social media links, including Twitter, Facebook and Instagram, and they will also be on the East Riding Museums website.
Nial Adams, museums and archives manager, East Riding of Yorkshire Council, said: "The council and our partners, Arts Council England are delighted to continue the funding of this poetry festival which has revealed and continues to reveal the creativity of the people of the Wolds and the East Riding."
Alfred Williams, assistant curator, said: "This is a fantastic opportunity to celebrate the history and heritage of the Wolds and see how our objects can inspire wonderful poems, which will in turn inspire us to look at our collection with new perspectives."
Julian Woodford, festival director, said: "We have already received some excellent work from across the region by new and experienced poets, some of which have been inspired by the weird, wonderful, beautiful and practical museum objects we are working with.
"Obviously, we are in unusual times, so we're actively encouraging people to share their thoughts and work on lockdown and Black Lives Matter, and consider submitting any work that is linked to a sense of place, community and the people who once lived in the towns and villages we now inhabit in East Yorkshire.
"Last year's festival was very successful and we want to carry on where we left off but also clearly take into consideration the unusual circumstances we all find ourselves in."
This means that the festival will still be publishing a collection of work from poems submitted and is still planning to run an Open Mic, which, subject to social distancing measures and Covid-19 lockdown restrictions, will be held in North Dalton on Saturday September 26 and/or in an online format, details of which will be shared if or when it becomes necessary.
Entries for the custom-designed festival book close at midnight on Monday August 31 and can be sent by email to [email protected] or by post to The Festival Director, The High Wolds Poetry Festival, East Riding Museums, Treasure House, Champney Road, Beverley HU17 8HE.
Entries for the Open Mic are open until the day prior to the festival, which has been developed by East Riding of Yorkshire Council's East Riding Museums Service.