Collection of Alan Ayckbourn and theatre-in-the-round items donated to Scarborough Museums and Galleries
An important collection of items relating to the theatrical giant Alan Ayckbourn and the history of theatre-in-the-round in Scarborough has been donated to Scarborough Museums and Galleries by the playwright and by his archivist.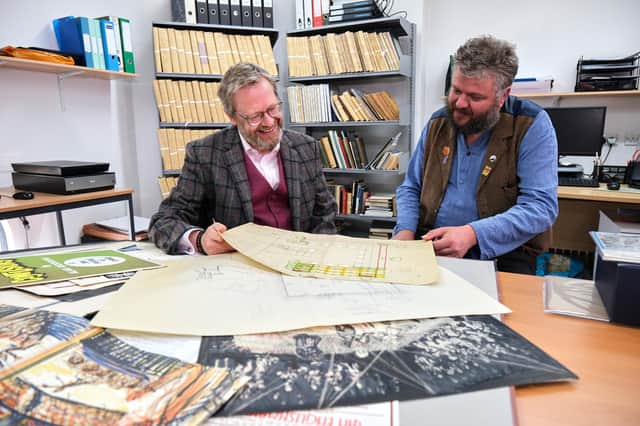 Objects include a rare original script of the writer's first play The Square Cat and a 1970s portrait of Ayckbourn by 'kitchen sink' artist John Bratby, which went on public display for the first time at the gallery earlier this year.
It was loaned to Scarborough Museums and Galleries as part of the portrait exhibition Who Am I? and now becomes a permanent part of the collections.
Also in the donation is a complete collection of original actors' manuscripts for Ayckbourn's The Norman Conquests, which celebrates its 50th anniversary this year.
Other items include material relating to the founding of the theatre-in-the-round in Scarborough by the man whose name it now bears, Stephen Joseph, including his set plans for Harold Pinter's directorial debut The Birthday Party, which rehearsed in Scarborough, as well as personal items of his including scrapbooks and letters.
One item of particular interest to theatre historians is Stephen's plans for a 'fish-and-chips theatre' – a theatre with a fish-and-chip bar attached with patrons being encouraged to take their fish supper into the show.
Both the Bratby portrait and the plans for a fish-and-chip theatre, along with other items from the 50-strong collection, is now go on display at Scarborough Art Gallery.
Andrew Clay, chief executive of Scarborough Museums and Galleries said: "The Ayckbourn gift is an important moment for Scarborough Museums and Galleries. Theatre and entertainment are a central part of Scarborough's story, from the golden age of the seaside holiday when performance spaces abounded, to modern Scarborough where the Stephen Joseph Theatre has an international reputation for excellence.
"The Scarborough Collection includes nearly 200 years of theatre-related objects and memorabilia so to add this gift is a particularly joyful moment for Scarborough Museums and Galleries.
"We are enormously grateful to Sir Alan and Lady Ayckbourn and to Simon Murgatroyd for this gift and their immeasurable contribution to the cultural life of Scarborough."
Alan Ayckbourn's archivist Simon Murgatroyd, who facilitated and curated the donation and has donated several items from his own personal collection, said: "As someone passionate about both the history of theatre in the round and Scarborough, it's tremendous to finally have such significant pieces relating to Alan Ayckbourn and Stephen Joseph in a public collection in the town
" I'm delighted to have been able to work with Andrew and his team to facilitate this important acquisition.
"Stephen's idea for a fish-and-chip theatre was completely about breaking boundaries and democratising theatre, bringing in working-class people, competing against television – on the second plan, there's a bar with TV where the shows would be live-streamed: extraordinary – and, of course, completely technologically unfeasible in the early 1960s.
"It's a really significant item which really shows what Stephen was about in one diagram: innovation, new theatre forms and breaking down barriers to bring people to the theatre."
Born in London, Ayckbourn has spent most of his adult life living and working in Scarborough. His 89th play Constant Companions is on now.