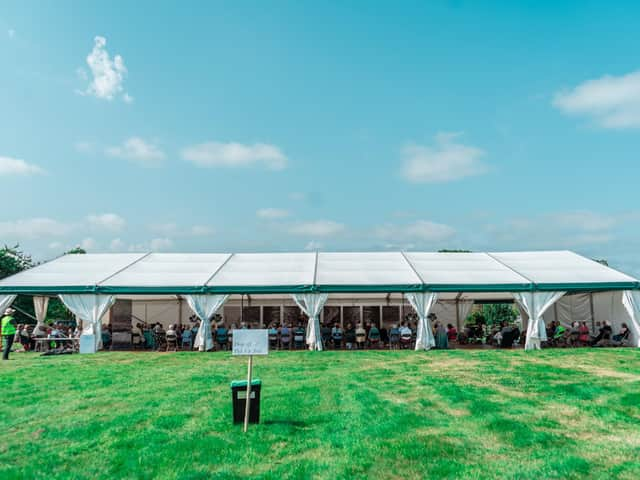 The marquee was put up near Kirkbymoorside
The North York Moors Chamber Musical Festival has uilt a loyal following over the past decade. But like so many other arts events, this year's festival was in jeopardy due to the coronavirus crisis – concerts usually takes place within churches across the North York Moors National Park but indoor performances were banned until last Saturday.
But festival organiser and renowned international cellist Jamie Walton, who lives within the National Park, organised a new venue in less than a week for this year's festival - which ran from August 9 to 22 – a 5,000 square foot marquee in the grounds of Welburn Manor, near Kirkbymoorside. As it was possible to open more than 50 per cent of the sides, it was an 'open air' event which was fortunate enough to take place during the heatwave.
World-class musicians travelled from across Europe to perform over an intense fortnight of concerts to emotional and appreciative audiences who came in their droves, purchasing every single one of the limited number of tickets available in a socially distanced seating plan.
Jamie said : "Some of the world's finest musicians, including Italy's renowned Cremona Quartet, have all been playing their hearts out – each and every one of these artists have been on incredible form and I think it's safe to say that the atmosphere this year is the best it's ever been, which is saying something!
"I am humbled by the sheer success of this year's festival, a gamble which took tremendous courage and sheer willpower; I hope this sends powerful ripples out to motivate others to do the same. It seems tragic that we were the only live classical music festival in the whole of the UK.
"Furthermore, this was the only and first work any of my colleagues have had since lockdown began. We dared to dream despite the odds and have fought back against this government and the disgraceful, destructive way it's shutting down industries and, more ominously, the nation's confidence.
"We seem to be living in a climate of fear, a paralysed state which, after talking to my colleagues at the festival, I believe isn't anywhere to be seen elsewhere in Europe and Scandinavia right now.
"It's time to fight back against this scandal in order to save our creative industries and send a message of hope, particularly for the younger generation who are, after all, our future.
"We don't have to put up with the reality being imposed upon us and the message sent through our festival this year was a healthy start. Creativity will not be silenced.
"We have documented this year's festival on film which is to be embedded within our website next month and released through social media. We will then continue to film the building of a new recording studio (Ayriel Studios) which is currently being constructed up in Westerdale, opening next year as we head into our 13th festival.
"In essence, it will be a 'year in the life' of a creative vision which fought its way through during the pandemic and its aftermath. I'm a great believer in true art thriving through adversity and we want to demonstrate what that means. Instead of our voices being surpressed, they just got louder."
The theme of this year's festival was Revolution!, featuring music from Beethoven, Schubert, , Dohnányi, Pärt, Lutosławski, Ravel, Satie, Fauré, Elgar, Bach, Mozart, Spohr, Weber, Ravel, Schoenberg, Berg, Messiaen and many more.
The artists in residence were: Katya Apekisheva, Christian Chamorel and Richard Ormrod (piano); Claude Frochaux, Rebecca Gilliver and Jamie Walton (cello); Nikita Naumov (double bass); Meghan Cassidy, Tetsumi Negata and Simon Tandree (viola); Rachel Kolly, Victoria Sayles, Charlotte Scott, Zsolt-Tihamér Visontay (violin); Ursula Leveaux (bassoon); Matthew Hunt (clarinet); Naomi Atherton (French horn); Claire Wicks (flute); Adrian Wilson (oboe); Anna Huntley (mezzo-soprano) and The Cremona Quartet.
The final concerts in the festival take place this weekend.
Next year's 13th North York Moors Chamber Music Festival will take place between August 8 – 21 and the programme will be released in mid-November. For more information visit northyorkmoorsfestival.com and join the mailing list.