​Performers with learning and physical disabilities take centre stage at Scarbrough's YMCA
Members of Creative Daycare Services are waiting to cast a spell on you with a Halloween-themed show at the YMCA Theatre in Scarborough later this month.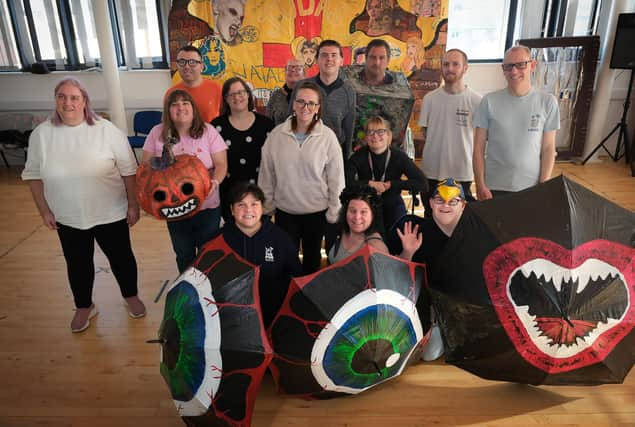 The organisation, whose adult members have physical and learning disabilities, have been based at The Street in Scarborough for nine years.
The members regularly put on shows at the Lower Clark Street building and now is the time to let a wider audience see their talent.
Creative programme leader Katie Doubtfire, who is also productions director at the YMCA, said: "Their talent is so massive we wanted to do a show on a bigger scale. With my links to the YMCA, I was able to facilitate that.
"It is going to be a Halloween-themed show with the usual creepy, spooky things but there is a message behind it as well.
"In the first half of the show members are controlled by a massive demon puppet. In the second half of the show the narrative is flipped and the members take back control from the demon.
"The demon is a metaphor for their disabilities and we are saying they are not defined by their disabilities and they are much more than their disabilities – and we want people to see that," said Katie.
On the bill are Let's Do the Time Warp Again and Bump in the Night. More unusually, there is also a version of Lesley Gore's You Don't Own Me, Miley Cyrus' Prisoner and Queen's We Will Rock You.
Member Kerry O'Neill will be dancing to Annie Lennox's I Put a Spell on You.
"I have always loved dancing," said Kerry. "It has been really fab to put everything together as a family. I am really happy to be going to the YMCA."
Fellow cast member Sally Boyes said:" I can't wait. My mum is coming to see us at the YMCA."
Stephen Rolls, who has been a member of Creative Daycare for seven years and was in Chitty Chitty Bang Bang earlier this year at the YM, said: "I love it here. We do all sorts, art, singing and dance."
Stephen Wright plays a monster in Spellbound Spectacular and it will be his first time on the YMCA stage.
For Yammy Lighvani it will be a chance to show off her singing talent. "I am singing Little Mix's Black Magic and I have been making posters to advertise the show," she said.
All the props and costumes have been made by members and staff which, as well as Katie, includes Ben Foster, who is doing the live music, Tracy Carney and Jo Oxlade.
Props include decorated umbrellas, LEGO and pumpkin heads
"Spellbound Showcase is not just spooky but spectacularly inclusive," said Katie.
"The audience will Marvel at the incredible talents of individuals with learning and physical disabilities as they take centre stage, showcasing their unique abilities and creativity.
"It will be a night of thrills, chills, and heartwarming moments—a Halloween celebration that embraces the true spirit of inclusivity. Don't miss this unforgettable evening where differences are celebrated, and talents shine brightly.
"People often see the disabilities and think they won't be as talented as an able-bodied person but that is not true."
Spellbound Spectacular is on at the YMCA Theatre, St Thomas Street, Scarborough, on Tuesday October 31 at 7pm.