Roman Festival marches into Malton on Saturday September 23 - here's what's happening
Roman life in Malton and Norton will be celebrated with live demonstrations, marching and staged battles at a festival based at Mlton Museum next weekend.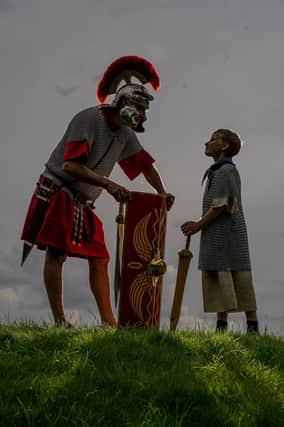 The original Roman Fort in Malton appears to have been built around AD 71, some 30 years after the Romans invaded Britain,
Enactment groups Magister Militum, Roma Antiqua and Legio VI will also have military encampments that demonstrate the changes in military equipment and life throughout the 400 years of Roman occupation of Britannia.
There will be plenty to interest children including a Children's Roman Army" segment, mosaic making, paint your own shield, wax tablet drawing, and 'archaeological digs', as well as being able to dress up as an Ancient Briton or a Roman soldier.There will also be a 'mini Malton Museum', displays from Roman interest groups in the region, as well as a number of authors who cover the Roman period in their work including:
Simon J Turney – author of several series of fictional books such as Marius Mules and Praetorian.
Simon Elliot – who has a book on Legio IX Hispana out in the near future. This was the legion that marched out of York and was never seen again.
Kate Cunningham – children's author of "Vlad and the Roman triumph" and other books.
Julian Morgan – author of is publications include Nero, Hadrian, Constantine, and Cleopatra.
If you fancy some food and drink while visiting the festival, then there will be Roman style taverna – Ryedale Vineyards – the Bistro Guy, Malton Relish and Mead courtesy of Crossroads Brewery.
The festival is on Saturday September 23 from 10.30am to 3.30pm.
The cost of entry will be £10 per adult and £20 per family with children under 14 go free.
For online booking via the website, please see www.maltonmuseum.co.uk for further details.
There is no parking onsite. Parking is available at Tate-Smiths yard or the other nearest carpark is Wentworth Street, Malton.
The site is a short walk from the railway and busstations.