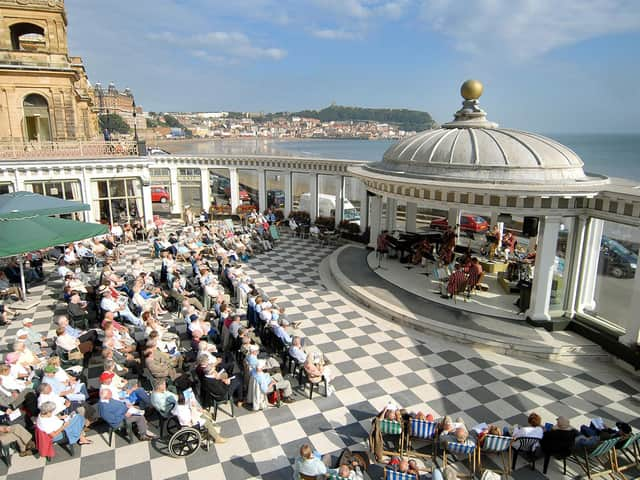 Performance in the Sun Court
The Hull-based musician and tutor recorded a version of Tears for Fears hit Mad World during lockdown and aimed at raising awareness for Mental Health UK.
Lisa performs vocals and the double bass in the recording which can be seen hereThe Scarborough Spa Orchestra is the last remaining professional seaside orchestra in the UK. It has been performing a summer season at the Spa for more than 100 years. This year's season was put on hold because of the Covid-19 pandemic.
The awards are for UK-based artists, ensembles, organisations and entities that have particularly set out to inspire us all during lockdown.
For these new Awards, we are – for the first time – welcoming nominations from the public, and warmly invite you to tell us what has particularly moved you musically in the last few months.
Take a moment to think of what has inspired you since lockdown began. It might have been an individual or group – instrumental or vocal, professional or amateur, established or newly-formed – who found a way to perform something truly special online, or to share their music in a new setting, benefiting others.
It might be a musician or ensemble who have devised new ways to share their creativity or open up aspects of their craft digitally that we haven't witnessed in quite the same way before. It might be someone or something that has roused others to be more musical themselves in confinement, perhaps getting the community singing or playing. It might just be someone who's done a truly exceptional good deed to benefit musicians or music lovers during the pandemic.
Each member of the public can make one nomination. Once you've decided what to nominate, click here to complete our online nomination form.
Judging is not based on number of nominations received.
Nominations for the Inspiration Awards are open all summer and will close at 11am on Wednesday August 26.
After that, the Board and Council of the Royal Philharmonic Society will convene to consider all nominations received in this category. There will be no shortlisted nominations for the Inspiration Awards, and winners will be revealed in the Society's awards presentation in November.