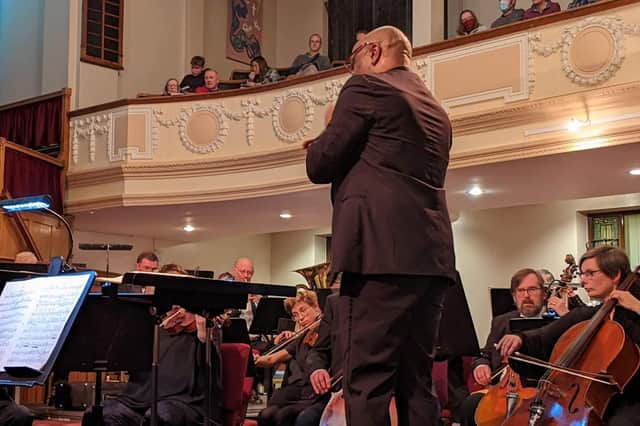 Scarborough Symphony Orchestra will be in concert at Queen Street Methodist Central Hall on Saturday May 7
Written in 1901 as a call to end the oppression of Finland by Russian forces, the Symphony of Independence has become one of Sibelius's best-known works.
The evening's programme will also begin with the Ukrainian National Anthem.
Violinist Ben Holland is returning to perform Beethoven's Violin Concerto. As well as teaching young musicians at the Royal Northern College of Music Ben has been guest leader for some of the most famous orchestras in the UK, including the Hallé, the Royal Philharmonic, the BBC Philharmonic and the Royal Liverpool Philharmonic.
The Orchestra is delighted to welcome him back to Scarborough to perform one of the favourite concertos in the violin repertoire:
"This concert will be a special event for us. Performing the Sibelius reminds us of how important freedom is in the world and especially for the future of our young people," said Tony Turner, chairman and trombone player with the orchestra.
"Recently the orchestra committee has been considering how it can provide more of a welcome to young people, both as players and as audience members. It is amazing to think that the first successful performance of our featured piece, Beethoven's Violin Concerto, was performed by the 12-year-old Joseph Joachim in front of the London Philharmonic Orchestra conducted by none other than Felix Mendelssohn."
The orchestra is keen to hear through its website from anyone who can help with its campaign to engage more with young people. Please contact the chairman or secretary.
The concert is on Saturday May 7 at Queen's Street Methodist Hall at 7.15pm.