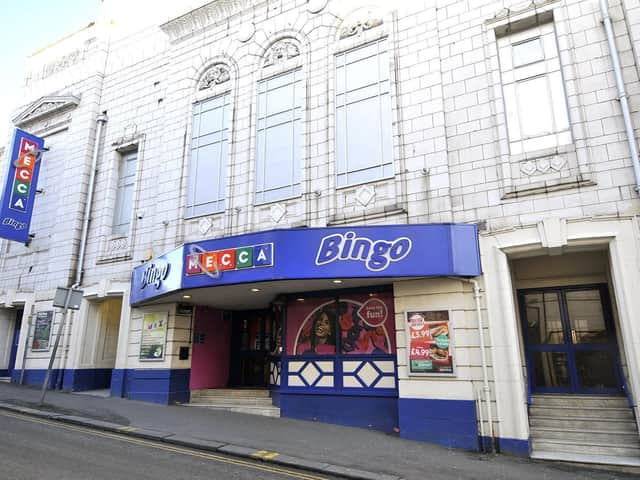 Mecca Bingo hall in Scarborough
Since reopening, the nation's favourite bingo hall Mecca Bingo, which has a hall in Albemarle Crescent, Scarborough, has seen a resurgence and refreshed love for the game. In fact, according to the data, as many as 20 percent of millennials will dust off their dabbers and play a weekly game of bingo, a similar 21 percent at least once a month.
Perhaps unsurprisingly lockdown has helped with the revival of bingo, with 39 percent having played with friends and family during the last four months.
While 46 percent of bingo lovers play online, two in five Brits enjoy a game at a classic bingo hall, while 22 percent will play at home with friends.
Over a fifth of young Britons have even taken a potential partner for a date at a bingo hall - with one in ten confessing they've indulged in many romantic evenings playing bingo.
The study of 2,000 Brits by Mecca Bingo, to celebrate their upcoming 60th anniversary in 2021, took an in-depth look into the classic game of bingo and how Brits like to play. Ahead of the big birthday, Mecca Bingo is calling out for any memories of the much-loved game to be shared.
The study also revealed, 41 percent of the young Brits polled insisted traditional games and pastimes are now cool and retro, with almost four in 10 ( of younger Brits believe that bingo is not just for the older generations. Bingo is better than clubbing as 41 percent of the 16 to 29 year old's polled admit they prefer playing darts, bingo, snooker and pool with their pals to boozy nights out clubbing.
Catrin White, retail marketing director at Mecca Bingo, said "Bingo has a long history and it's great to see it's still as popular as ever with Brits from all over the UK. We're seeing a resurgence with millennials favouring the classic game, and our research also indicates that plenty of Brits enjoyed bingo throughout lockdown driving a renewed passion for the pastime. We even saw a lot of our club regulars go online to play at meccabingo.com during the lockdown, not just for the love of the game but to socialise in our chat rooms and connect with their friends. We're proud of our heritage and want to look back and celebrate the last 60 years of Mecca and collect memories from across the country."
More thaN 44 percent of 16 to 29 year old's across the UK favour a night out playing bingo with friends over a romantic night in with their partner, and almost a quarter of millennials say some of their best nights out have been spent playing the game.
The research also polled Britons on their favourite memories of playing bingo, with 49 percent admitting they have fond memories of having fun playing with their friends and family. More than a look back on fond holiday memories where they enjoyed bingo, and 29 percent remembered childhood memories of playing with their parents.
Bingo's origins are believed to be in Italy, where it is said the game began life as a lottery called 'Il Gioco del Lotto d'Italia', in 1530. It later became a favourite of the French aristocracy, where it was known as 'Le Lotto', before finally arriving on British shores in the 18th century, being widely played across industrial towns and cities.
Mecca began its history in May 1961 when it opened its first Bingo hall in London, the Gaumont Peckham a former cinema converted into a Top Rank Bingo Club. Today there are over 70 Mecca Bingo clubs across the UK, offering not only bingo nights, but other entertainment including quiz nights, great food and drink and much more.
Mecca is asking people to share their treasured memories, be that photographs, anecdotes, stories or memorabilia on social media with the hashtag #MeccaMemories.