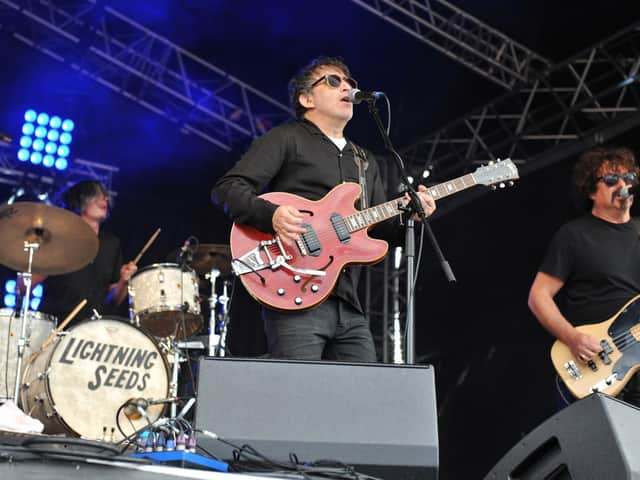 The Lightning Seeds pictured in 2019.
Famed for their football anthem and number one hit single 'Three Lions' the band will take the top slot on Saturday July 31, Visit Malton have announced.
The festival is set in Malton's beautiful riverside meadows and gardens at The Talbot Hotel with the family-friendly event set to run from 10am to 10pm.
Main Stage headliners The Lightning Seeds will be supported by some of Yorkshire's best talent such as The Y Street Band, Ben Beattie's After Midnight Band, Flatcap Carnival, Hyde Family Jam and 'The UK's maddest party band' HUGE! – promising festival-goers an eclectic mix of funk, blues, reggae, ska and rock.
Meadowfest will feature some of the region's best street food stands, including 'Pizza Chef of the Year 2019' Mark Baber from Wood Fire Dine and the Yorkshire Bus Bar will be on hand to offer artisan Yorkshire-produced drinks.
There will also be a whole host of arts and children's entertainment plus onsite fairground rides.
Festival Director Tom Naylor-Leyland said: "Both residents and visitors to Malton have greatly missed our events calendar over the last year. Meadowfest was the perfect addition to our repertoire when we launched it back in 2019, and we're so delighted to be able to safely host the event this year and bring music back to Malton in 2021."
"It's been a turbulent twelve months to say the least, but we will look forward to welcoming familiar and new faces to our town once again. I'm sure that The Lightning Seeds will be a huge hit this summer and what better way to herald the warmer months than our fantastic boutique festival!"
'Early Bird' tickets are available to purchase for £25 until May 31. Tickets on the gate will be £35 (subject to availability) and accompanied children under 16 go free. Tickets include free parking in the nearby Riverside Meadow and the festival is a 10-minute walk from Malton train station.
To find out more, and book tickets; visit Meadowfest.