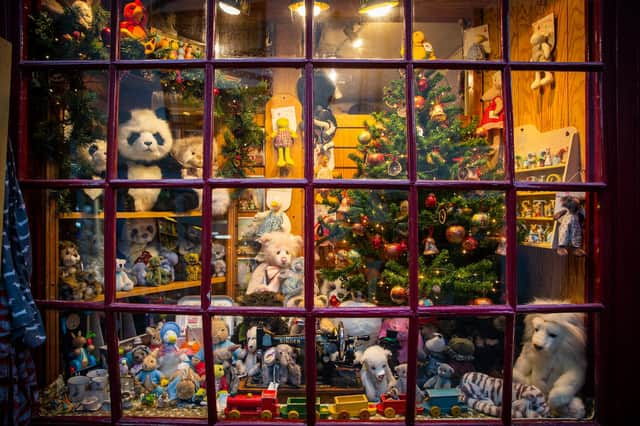 Family owned Rumours gift shop will be decked up for Christmas in Whitby
FIND OUT MORE: For full details about events and attractions, or to book your stay, visit www.discoveryorkshirecoast.com or talk to the friendly, dedicated team at the Tourism Bureau on 01723 383636.
As a summer holiday hot spot it knows how to make visitors happy but in many ways it really comes into its own during the winter when the wide-open spaces and glorious views make it the perfect place to catch your breath, enjoy the build-up to Christmas or share some riotous fun and laughter with your family over the festive season.
Then, once the fairy dust has settled, it makes for a tranquil retreat.
Stretching from Saltburn-by the Sea to Spurn Point, the Yorkshire Coast is famously a country of contrasts, the most varied coastline in Britain, with all of your favourite holidays rolled into one: rural and remote, seaside promenades with fish and ships, magnificent scenery and wildlife – not to mention unique character, vibrant culture, and ancient heritage.
Within the Yorkshire Coast, you'll find the North York Moors National Park and the Yorkshire Wolds; it's been designated a Heritage Coast by Natural England and nicknamed the Dinosaur Coast by the world's geologists. In other words, it's a very special place.
Better yet, owing to a quirk in the climate, the Yorkshire Coast has some of the best year-round weather. The North York Moors is the UK's driest national park, and even during winter two out of every three days are, on average, rain-free. With some of the UK's lowest levels of light pollution, you'll also see hundreds more stars.
Brand new for 2021 will be Scarborough's very own ice Rink from 3 Dec 2021 to 2 Jan 2022.
What's more, tides and geography mean that the Yorkshire Coast is one of the best places in Britain for winter water-sports, with some of the country's best surfing beaches. Meanwhile, its many sheltered, purpose-built forest trails mean that it's a magnet for mountain-bikers and walkers in the muddiest of weather.
Top 20 winter getaway experiences:
1/ Wonderful winter walking. The Yorkshire Coast is a walker's wonderland, whatever the season. Not only does it boast Britain's most popular long-distance trail and one of the world's great walks, Alfred Wainwright's classic Coast to Coast, but you can enjoy an amazing walk in any direction, from any doorstep – just point towards the horizon and go! A favourite is the route from Whitby to Staithes, with plenty of cake stops on the way!
2/ For the ultimate 'space out', how about starry trips to the edge of the galaxy? You will find some of the best places in Britain for stargazing here once autumn/winter nights arrive – in fact, the region's just been awarded coveted international 'Dark Sky' status. On clear nights you can even see the Milky Way, a rare phenomenon in the UK. Ravenscar and Danby are favourite star-gazing hotspots with regular sightings of the spectacular Aurora Borealis, or Northern Lights.
The famous Filey Fishtive Tree switch on event will be held on Saturday, December 4, at 6pm.
3/ Explore ancient shrines to sanctity and serenity, like Whitby Abbey, Rievaulx Abbey or Lastingham Priory, or visit Yorkshire's great working abbey at Ampleforth, famous for its historic orchards and cider-making.
4/ Get closer to nature on one of the coast's many safaris, whether whale-watching, dinosaur-hunting or food-foraging, by boat or bike. Birds-eye views of puffins and seabirds at Bempton Cliffs; seashore safaris at the flagship Living Seas Centre (Flamborough), and Yorkshire's seal hospital at Scarborough Sealife Centre; Britain's best rock-pooling at Saltburn, Robin Hood's Bay and Boggle Hole, and Scarborough.
5/ Meditation or Mindfulness Walks are becoming increasingly popular in the magnificent surroundings of the Yorkshire Coast: from guided Marine Mindfulness Walks with Flamborough's Living Seas Centre to a self-guided Mindful Walk around Ravenscar. Adventures for the Soul have introduced magical nature and walking experiences around the coast. Taking you off the beaten track into magnificent locations far from the everyday, they're designed to help you recapture a sense of awe and wonder, both by day and night.
6/ Relax. Keeping its legacy as a premier spa town alive, Scarborough is home to wealth of superb spas including a new 'spa world', Wellness at Alpamare. With multi-sensory saunas, steam rooms, hamams and magnificent sea views, you'll experience the latest in world-leading luxury spa design and treatments, plus rituals including the live Aufguss ceremony, currently taking Europe by storm. Elsewhere you can relax in some of the country's top (and most original) spa experiences, including Yoga and Spice near Whitby (Guardian Top 10 spa and wellness break), offering woodland yoga retreats spiced with Ayurvedic cookery and foraging. Or retreat to your own luxurious country estate at Raithwaite in Sandsend, where its extensive spa has pamper packages not just for people, but also for guest pooches!
Brunswick shopping centre in. Scarborough
7/ Let off steam. The UK's first 'weatherproof' indoor water-park, Scarborough Alpamare has the biggest, fastest and most exhilarating, state-of-the-art waterslides, a giant wave pool, outdoor infinity pool and fun Splash & Play area for younger children. Perfect for water-babies from teens to tots! Then there's Scarborough's North Bay Railway, one of the few places in the country where you can experience the thrilling Sky Trail Adventure with its labyrinth of high-level ropes and beams.
8/ Sample spirits and brews with a magical alchemy: The Lickerish Tooth handcrafts gins and vodka with herbs and spices (natural botanicals) used in cures for the Plague; the award-winning Spirit of Yorkshire whisky distillery and Wold Top Brewery use spring water sacred to saints and pagan gods; and the craft breweries of Whitby, Scarborough, Robin Hood's Bay (Baytown) and Cropton pay tribute to local legends from spooks to smugglers, whilst using traditional techniques in their brews. Behind-the-scenes tours are offered by most of the drink producers, pre-booked in advance. You can also sample Whitby – and other local gins – at the remarkable Rusty Shears, in Whitby, a vintage café by day; gin palace by night!
9/ Get active on the new North York Moors Cycleway, a 'figure of eight' off-road cycling trail through 200 miles of some of the UK's most amazing scenery, including a breath-taking section along the coast between Filey, Scarborough and Ravenscar, and with plenty of cycling-friendly accommodation, cafes and tea rooms along the way. A new hotel for adventurers has opened in Scarborough – the beachfront Bike & Boot. It's a cosy retreat with uniquely designed bedrooms, a bar-restaurant-café, and everything you need to enjoy the great outdoors, whether you're bringing your dog, bike, surfboard, or simply your sense of adventure.
10/ The Yorkshire Coast is a UK hotspot for water-sports, and a magnet for surfers year-round with some of country's best beaches and breaks, and top-quality surf schools in Scarborough, Whitby and Sandsend Bay; a new Aqua Park at Wykeham Watersports, or for multi activity providers there's Bay Watersports, SUP Adventures, and Barefoot Kayaking in Runswick Bay.
11/ Come face to face with Whitby's historic fishing heroes on a wander along the new Walking with Heritage Trail created by international sculptor – and local lass – Emma Stothard. It features nine unique life-size sculptures from the first female skipper in the North East, Dora Walker, to Victorian Photographer, Frank Meadow Sutcliffe.
12/ Grab a guide to the Otherworld: Make a date with experts like the Whitby Storyteller in Whitby and Robin Hood's Bay; go monster-hunting and star-searching with Hidden Horizons; and delve into the shadows during Dr Krank's Whitby Walks.
Scarborough Sparkle at Scarborough Open Air Theatre, between 26-28 November
13/ A Smugglers' haunt: explore the secret haunts and hideouts of the infamous smugglers of Robin Hood's Bay in the company of Smuggler George, the expert guide from Baytown Smugglers' Tours.
14/ Discover artefacts that defy the imagination within Yorkshire Coast's museums – objects of wonder collected by antiquaries or unearthed by archaeologists that provide a thrilling glimpse into a long-forgotten world. Bram Stoker was indebted to Whitby Library's archives (now Whitby Museum): it was the place that first introduced him to 'Dracula', and he wove many of its real-life stories into his writing - you can even see his signature in the visitor book!
15/ Beachcombing: forage for wild jet (and amber) on Whitby beach or join a fossil-hunting beach safari with experts Hidden Horizons. The Yorkshire Coast is one of the UK's best spots for beachcombing, attracting the world's fossil hunters, local seafood foragers, and mini marine-beast hunters!
16/ For golfing: top courses include championship Ganton Golf Club near Scarborough; Filey Golf Club established in 1897; Whitby and Flamborough Head with stunning coastal views; or Kirkbymoorside, home to one of the world's most prestigious amateur golf tournaments, the Trilby Tour. Scarborough even has two courses and an annual fun-filled Scarborough Golf Open Week, that's been attracting golfers since 1921.
17/ Discover timeless traditions and unique craftsmanship as you explore the region's picturesque coastal towns and villages, such as Whitby's artisan jet jewellers - one of just four groups of indigenous people across the world who still work jet as a way of life. You can even try your hand at polishing your own stone or commissioning your own jet jewellery design.
18/ For something different: enjoy adrenaline-fuelled 4x4 Land Rover adventures at the North Yorkshire Off Road Centre on their specially built off-road course overlooking Robin Hood's Bay. In the company of fully qualified off-road experts, there are driving experiences for everyone from 10 years upwards. Go Ape in Dalby Forest with Tree Top Adventures; make yourself at home in the wilderness with Trailblazer Wildcraft or East Barnby Outdoor Centre; Yorkshire Gliding Club at Sutton Bank offers the ultimate free-flying experience; and at Pesky Husky you can drive your own winter team of Siberian huskies, with sleds designed for snow and mud!
19/ Take an enchanting journey aboard the iconic steam trains of the North Yorkshire Moors Railway, one of the world's greatest railway experiences – and star of magical film Harry Potter (the platform at Goathland doubled as Hogsmeade Station in the movie). The village of Goathland was also the location for much-loved TV classic Heartbeat.
20/ Eat award-winning food. Food tastes better on the Yorkshire Coast! It's scientifically proven that the sounds and smells of the seaside make our brains love eating the award-winning fish & chips that the Yorkshire Coast is so famous for; but there are many more reasons why the Yorkshire Coast is a premier UK food destination. Meet the country's finest chefs, including Whitby's Michelin-starred Andrew Pern of Star Inn the Harbour and Paul Gildroy of the world-famous Magpie Café. Gastro-café Eat Me Café & Social, in Scarborough, has been voted Good Food Guide's Local Gem for five years' running, and Best UK Café three times over recent years. The Copper Horse in nearby Seamer is so famous for its Yorkshire Roast with all the trimmings, it was named Les Routiers Restaurant of the Year. It also has sister restaurants nearby with top-rated traditional roasts: The Plough in Scalby, and the Mayfield in Seamer. For a stylish afternoon tea (or breakfast brunch or sensational seafood), Olivers on the Mount Café & Bar is a locals' favourite. First opened in the 1920s, Olivers has the best views in town, enjoyed whilst reclining in luxurious décor indulging in scrumptious home-made treats.
"After the past year, a trip to the Yorkshire Coast this winter provides the perfect escape from the everyday - a chance to recharge our batteries and rekindle our Christmas spirits! You can spend a busy day shopping in our amazing independent shops where you'll find plenty of inspiration for Christmas gifts or food hampers, then treat your loved ones to an enchanting night of entertainment, then snuggle up in a huge choice of cosy and luxurious accommodation. Everyone is encouraged to book early – whether to an event or a B&B - to have the best possible experience," says Janet Deacon, Tourism and Culture Manager at Discover Yorkshire Coast.
The Christmas countdown has started!
Businesses up and down the Yorkshire Coast are pulling out all the stops to make this Christmas extra special with wonderful festive entertainment and markets providing a great opportunity to find unusual gifts and sample the very best of local produce. With more and more events being added to the diary every day, headliners include (pre-booking essential!):
*Whitby's Christmas Festival, 26-28 November, a fun launch to the festive season.
*Scarborough Sparkle at Scarborough Open Air Theatre, between 26-28 November, a magical and enchanting Christmas wonderland.
*Brand new for 2021, Scarborough's very own ice Rink! Enjoy the perfect festive activity for first dates, play dates, best mates and fun for all the family! 3 Dec 2021 to 2 Jan 2022.
*Jack and the Beanstalk, Stephen Joseph Theatre (SJT), Scarborough – 3-31 Dec 2021. World Premiere. Nick Lane has adapted yet another classic tale for this year's Christmas show at the world famous SJT.
*Scarborough North Bay Railway Santa Specials - travelling by vintage train to meet Santa and his elves, 4-5 Dec, 11-12 Dec, 18-19 Dec, 22-23 Dec 2021.
*Filey Fishtive Tree Switch On. The famous Filey Fishtive Tree is back for 2021! The switch on event will be held on Saturday 4 December at 6pm.
Above all, the Yorkshire Coast, is all about enjoying what you love with the people you love. Whether you're seeking gentle escapism or thrilling adventure – or both - there is no better place to be outdoors this winter than the Yorkshire Coast. You'll find much more inspiration at www.discoveryorkshirecoast.com
For all details about events and attractions, or to book your stay, visit www.discoveryorkshirecoast.com or talk to the friendly, dedicated team at the Tourism Bureau on 01723 383636.
Whitby's Christmas Festival, 26-28 November, a fun launch to the festive season.