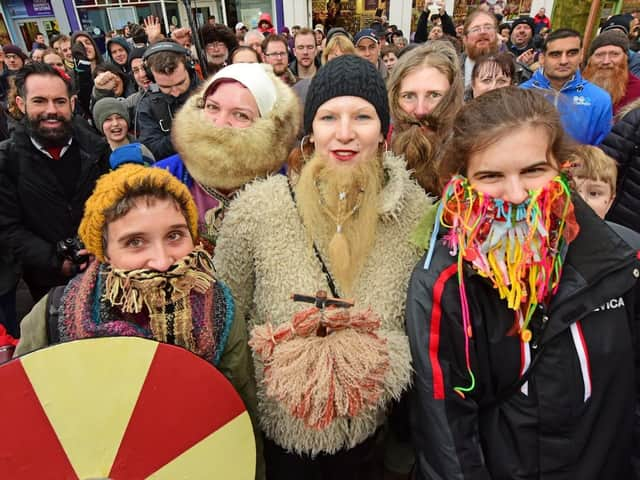 Who has the best beard?
Organised by charity York Archaeological Trust, the celebration of all things Norse - some free, some paid-for, takes over York city centre for the February half term.
The Viking Encampment in Parliament Street, which runs daily throughout the Festival from 10am to 4pm – meet re-enactors, historic interpreters and traditional craftspeople in their living history encampment at the heart of the city.
Reading up on the Vikings
Sagas on the St Sampson's Square Stage – at regular intervals each day (times will be published on a blackboard each day), listen to heroes, explorers and settlers as they tell their stories, and watch as they demonstrate the battle techniques that helped create their reputation as fearsome warriors.
Inaugural Viking Costume Competition (open to members of the public) – Don't just watch the Vikings strut their stuff on the St Sampson's Square Stage on Saturday February 15 from 3pm – join in! Fashion a Viking throw or tunic out of an old blanket, scarf or top, make a cardboard shield and hey presto the Viking catwalk awaits.
The Annual Strongest Viking Competition – feats of endurance and strength on the St Sampson's Square Stage as Viking competes against Viking to be proclaimed the strongest of York's warriors! Saturday February 22 at 11am.
The Bloodaxe Reading Challenge – particularly good for local children, and set up in association with Explore Libraries, join this challenge to read as many books as you can before the Festival, and have a chance to win tickets to meet award-winning author Hilary Robinson as she launches her new book Jasper: Viking Dog at Explore York on Wednesday February 12.
The Best Beard Competition – Beards of all description are welcome, from naturally-grown to man-made, and the competition is open to men, women, children and even dogs! Free entry, and the chance to win some fabulous prizes on Saturday February 22 at 3pm on the St Sampson's Square Stage.
March to Coppergate – the city streets filled with Vikings of all ages, social status and profession! More than 200 Vikings are expected to march from Dean's Park by York Minster down to Coppergate, finishing at the Eye of York in a superb display of costume, weaponry and Viking style. The march leaves York Minster at 1.30pm on Saturday 22 February.
Click here for details of all the events at this year's JORVIK Viking Festival.