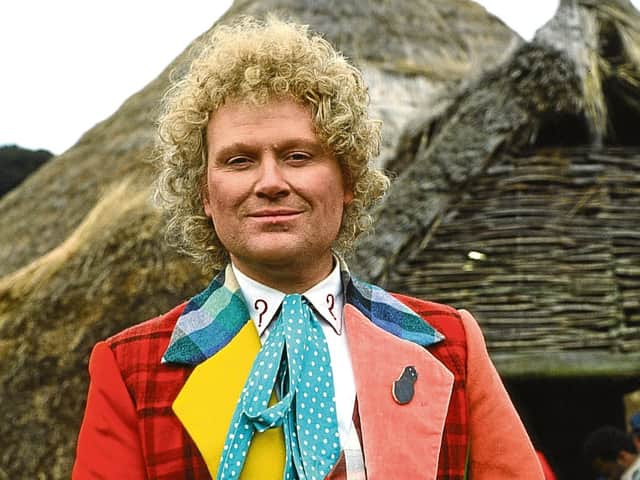 Colin Baker
Before being selected to replace Peter Davison as the sixth Doctor - 1984-1986 - Baker was an established television actor. His most notable role was Paul Merroney in The Brothers. Baker also guest starred as Bayban the Butcher in the Blake's 7 episode City at the Edge of the World.
Prior to being cast as the Doctor, Baker had guest starred in the programme, as Commander Maxil in the Peter Davison serial Arc of Infinity. At one point in the serial, Maxil shoots the Doctor; Baker often jokes that he got the part of the Doctor by killing the incumbent.
In 1994, Colin Baker had the distinction of being the first Doctor to have written a Doctor Who story, penning The Age of Chaos, a graphic novel published by Marvel UK featuring the Sixth Doctor and Frobisher.
He has also written several short stories for Doctor Who Magazine and its Yearbooks featuring the Sixth Doctor. Although Matt Smith is known to have written several short stories featuring the Doctor in preparation for playing the Eleventh Doctor, as of 2019 none have been published and thus it was not until the release of the Scratchman by Tom Baker that another Doctor actor has been credited for writing published Doctor Who fiction.
In 2013, Baker appeared alongside Peter Davison and Sylvester McCoy in The Five(ish) Doctors Reboot, in which they attempt to appear in the 50th anniversary special The Day of the Doctor.
In 2015, Baker finally saw a chance to perform a genuine regeneration story for his Doctor in the Big Finish audio anthology The Sixth Doctor: The Last Adventure, putting to bed his jest that he had never handed over the role, which he discussed at length in the commentary featured with the release.
At 34 years since his exit from Doctor Who, he holds the record for the longest time an actor who played the Doctor has waited to perform a regeneration scene after leaving the series, even surpassing Paul McGann's wait of 17 years.
Co-organiser Steve Dickinson "We are absolutely delighted that Colin has agreed to return, he was fantastic with everyone at the inaugural event, this really ensures that the Whoniverse within the convention this year will be really quite special, details of which we will be sharing with you very soon."
The convention runs from Saturday April 4 to Sunday April 5.
JILL HALFPENNY - Humans - Inside No.9 (Saturday only)
MIKE QUINN - Nien Nunb - Return of the Jedi to The Rise of Skywalker - Master Puppeteer
JOHN LEESON - K-9 - Doctor Who
FRAZER HINES – Jamie McCrimmon – Doctor Who
CLEM SO – Star Wars – Bond – Guardians of the Galaxy – Doctor Who – 47 Ronin
JON DAVEY – Doctor Who – Rogue One – His Dark Materials
COLIN SPAULL – Doctor Who – Big Finish
GARY ERSKINE - MARVEL - DC Comics - Vertigo - Dark Horse Comics - IMAGE – IDW
GRANT PERKINS – 2000AD – WWE – Doctor Who
GRAHAM HUMPHREYS – Horror posters – Evil Dead – A Nightmare on Elm Street