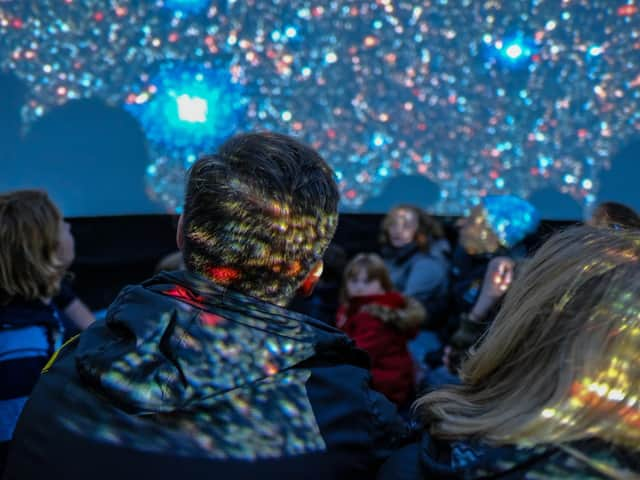 One of the company's activities at star dome
Hidden Horizons offers a wide range of outdoor activities including fossil hunting, stargazing, bushcraft, forest schools, beach schools and more.
But the lockdown, which is keeping everyone indoors, has meant that the company has lost more than 90 per cent of its income at what's usually its busiest time of year.
Managing director Will Watts has set up a crowdfunding scheme and promises some great rewards for supporters.
"While we are not a charity, we believe in supporting our local community and have always aimed to make everything we do as affordable and accessible as we can," he said.
"The COVID-19 pandemic has hit us very hard, but we'd like to think that when normality returns, we'll still be here ready to offer the experiences we think everyone will be craving.
"The rewards on offer mean people can look forward to an exciting experience in the future. We have also teamed up with GeoEd to offer some amazing replica fossils with some of the rewards."
Those wishing to contribute can choose to give:
A one-off donation of £10
£30, for a gift voucher for two adult stargazing tickets or a family ticket for a fossil-hunting trip
£70, for a fossil-themed children's birthday party
£100, for 20 half-price 'Dalby Diddys' sessions at the Hidden Horizons Forest School in Dalby Forest
£100 or more, for a fossil hunting trip for up to 10 people
£120 or more for a stargazing session for up to 10 people
£150 or more for a day of bushcraft adventures for up to 10 people
·£250 or more for 'The Fossil Connoisseur' – a two-hour fossil-hunting trip for up to 10 people plus a high quality replica dinosaur fossil worth more than £100 from GeoEd, which makes handmade replicas for museums and private collectors worldwide; or a 12-month access all activities pass which gives unlimited access for up to five people to all Hidden Horizons activities within a 12-month period.
Will said: "There are further rewards to be had for higher pledges – please visit our crowdfunding page here to find out more.
"And my promise to our supporters is that if, by any chance Hidden Horizons does not survive then I, as owner, will ensure all pledges in this project are delivered regardless."