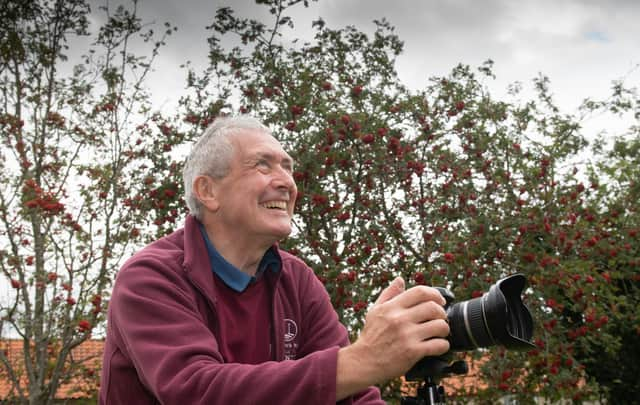 Group leader Davy Major led virtual walks
During the lockdown months of the pandemic, those of us who live on the moors were lucky enough to explore the area during our daily exercise.
As lockdown lifted, we were joined by many others, attracted by the vast open spaces and room to breathe the fresh air.
For those who were asked to isolate for longer, or who were less mobile and unable to get out and about, the freedom to enjoy the great outdoors was one of the things they missed most during the pandemic.
However, a project by the North York Moors National Park, "Virtual Walks" sought to open up the outside world to those who found themselves having to stay indoors.
Volunteer ranger Jim Hall initially hoped to bring presentations of walks to care home residents, and while this is still very much a part of the project, it has now expanded to include small groups of people who join the walks via Zoom from their own home.
Jim has been joined by volunteer and former history teacher, Davy Major, and two further volunteers who delight in imparting their knowledge of the area with those who join the sessions.
The four "Virtual Walk" leaders work with community groups such as Revival North Yorkshire and Ryedale Carers Support as well as going into care homes.
The project by the North York Moors National Park, "Virtual Walks" sought to open up the outside world to those who found themselves having to stay indoors.
Davy, 64, said: "I have enjoyed living close to the National Park for the past 45 years and being out in the beautiful moorland helps me to unwind and relax in a way a city never can.
"The National Park is beautiful in all seasons – although I do think Autumn and Spring are especially gorgeous. The light and colours are incredible.
"Planning my walks/mountain bike routes with maps and creating new routes beforehand is all part of the enjoyment and gives me the opportunity to practice my hobby of photography.
"Volunteering has been excellent for my health and well-being as it encourages me to get out and about 4-5 days a week.
"Putting together the walks helps me look at the National Park in lots of different ways as I try to think about what people might enjoy in our presentations.
"Sometimes for people who can no longer get out and about it may be very simple things which are special. This might be the sound of a fresh babbling spring up on Spaunton Moor, the call of the curlew flying up on Sleddale or the newly born ducklings on a farm in Rosedale. These sights and sounds often trigger memories."
"The feedback is really pleasing and obviously people enjoy these monthly walks.
"I have begun to see things differently and will look for features or areas of historical interest which I know my 'virtual walkers' will enjoy.
"They suggest places they would like to see and I do these walks for them.
"I have dug out my old local history books and guides and revisited these in researching the walks.
"Working closely with groups such as Ryedale Carers and Revival North Yorkshire has been really rewarding in supporting people who face different challenges in their lives – yet all have a shared love of the North York Moors and Coast.
"Sometimes the walks give people inspiration to visit a place they have not been to before.
"We provide maps of accessible routes and it was a delight recently when one of the virtual walkers arranged to have access provided to Trough House and went up there and created a lovely painting.
"As well as the National Park both Ryedale Carers Support and Revival North Yorkshire have been extremely supportive.
"Their staff have gone the extra mile in making sure the virtual walkers can use the technology.
"They provide back up during our zoom walks and will visit people to make sure they
understand the technology.
"Some people have said that because of what we do they can now use email with their own families and have got more used to Zoom."
Kathryn Harrison from Glaisdale finds the virtual walks liberating. She said: "I'm getting increasingly disabled and I'm alone, so walking any distance is a problem.
"It's like being able to walk long distances again with a companion to tell you the history.
"We do them as a group, so other people put in stuff as well.
"As I get more disabled it feels like the world is getting smaller. This makes it feel like the world is out there again.
"Davy is really good at learning about people, for me he's started to learn about accessibility and he says 'Kathryn, you can park here, leave the car and it's an accessible path.'"
"As an artist it's given me an idea of where to go and paint. I became fascinated with Trough House at Fryup and found it and painted it."
"It's great to learn about the place you live."
Danby resident, Brian Raw, is a keen participant in the virtual walls, he said: "To me it's a big thing, I was brought up in the area, both in the moorland and the valley, and I spent a bit of time following the hounds and beating.
"It brings back a lot of nice memories. Nearly everybody jumps in with different special memories. It's a good thing to reminisce."
"It's something my wife Beryl and I look forward to - it's one of those things we just wouldn't miss."
If you'd like to get involved with the virtual walks, contact Revival North Yorkshire on 07970 955407 or Ryedale Carers Support by calling 01751 432288.