Nighthawkers have already gained access to ancient villa site in Scarborough and damaged buildings which could 'fill in the gaps' in knowledge of Roman Yorkshire
Nighthawkers have illegally accessed the remains of a Roman villa in a village near Scarborough just hours after Historic England publicly revealed the find.
Thursday, 15th April 2021, 4:05 pm
Updated
Friday, 16th April 2021, 11:05 am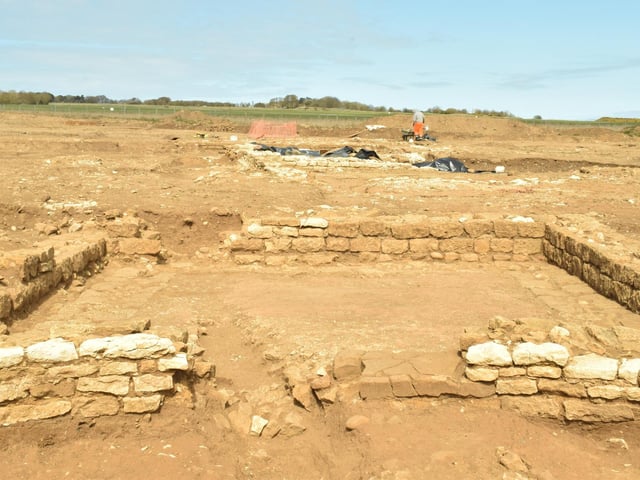 The extent of the complex (photo: MAP Archaeology)
Yesterday the heritage body announced that the ruins of a unique circular building with a bath-house had been found in the village of Eastfield and that the structure did not match the design of any other villas discovered in either Britain or Europe.
The excavation commenced when surveys on the land suggested there could be archaeology present after developer Keepmoat was given permission to build housing on the site.
Keepmoat have funded security as Historic England staff believed trespass attempts by 'nighthawkers' - metal detectorists who seek to illegally remove artifacts from historic monuments - were 'inevitable' after the details of the planning application to Scarborough Council entered the public domain.
Archaeologists work on the foundations (photo: MAP Archaeology)
They managed to breach security on Wednesday night and inspector of ancient monuments Keith Emerick confirmed that they had damaged the buildings and possibly removed items. A full inventory is now being carried out and Keepmoat have upgraded their security provision. North Yorkshire Police have been informed.
The incident has marred celebrations by archaeologists who have overcome lockdown restrictions and adverse weather conditions to record the discovery of a generation.
Mr Emerick believes that the dig, alongside other projects elsewhere in Yorkshire, could eventually help 'fill in the spaces' in historians' knowledge of Roman activity between York and the 'frontier' at Hadrian's Wall, including on subjects such as agriculture and use of the coast for trade and travel.
Experts are currently debating several different theories relating to the Eastfield villa's origins and uses, and further research will be undertaken in the coming months.
Work on site (photo: MAP Archaeology)
The discovery was made in early 2020 before lockdown halted work by consultancy MAP Archaeology, who were initially contracted by Keepmoat before Historic England were told of the building's significance.
A geophysical survey had struggled to identify the extent of the ruins as the local geology is similar to the stonework, so although archaeologists knew there was something below ground, they did not predict what they would eventually unearth.
"The building is a very unusual shape - circular in plan with rooms coming off the centre. It's not something we've seen before. We've spoken to Roman experts such as Martin Millett from the University of Cambridge who have worked on digs all over Europe, and they haven't seen anything like it. It had central heating, and there are round and aisled buildings around it. Underneath we believe was a traditional villa that was later built on and possibly even a timber villa which was a precursor," said Mr Emerick.
"We are struggling to find parallels. It seems to have functioned a bit like a stately home, as the stonework is of the highest quality and its use perhaps changed over time. We said it's a bit like a Roman version of Swinton Castle, near Masham - a spa and a gentlemen's club! But our theories may change once we learn more."
Walls visible (photo: MAP Archaeology)
Items including pottery have also been found, and the lack of scattered debris suggests that the building was deliberately dismantled at the end of its operational life, possibly coinciding with the Romans' departure from Britain.
Although the later Romans operated signal stations along the headland to deter German and Friesian raiders and the area west of Eastfield in the Vale of Pickering is 'stuffed' with prehistoric and ancient archaeology, there have been fewer finds from the era made in Scarborough and Mr Emerick says the coastal region is somewhat of an unknown quantity.
"We know a lot about Roman York and Chester, and the frontier at Hadrian's Wall, but the space in between is a bit of a mystery. We are starting to learn more about this area - we now know that Aldborough, near Boroughbridge, was an important town, the Manchester or Newcastle of its day, and that it may have had a quayside on the Ure, which was navigable.
"The Highways England improvement works on the A1 to Scotch Corner uncovered a lot of Roman material, and there is a dig at Old Malton ongoing. There is another Highways England scheme on the A66 to Penrith, so we'll then have knowledge of the north-south and east-west Roman routes through that territory.
"We hope to learn more about how much they used the coast to move their occupation northwards, and to move goods inland by river."
Other theories are that the site could have been some sort of religious shrine or sanctuary, or even the hub of a 'super farm' standing between the rich agricultural land in the Vale and the Wolds.
Yet once work is complete, the villa will once again vanish beneath the soil.
"We would like visitors to be able to come and see it on a monitored basis once Covid restrictions are lifted, but the core building will then be reburied. The developer will designate the area as green space, but exposed stonework decays quite quickly, and there is the question of who funds its maintenance. The most efficient option is to record, conserve and then rebury it.
"The nighthawking incident is really sad, as people in Eastfield are so excited about the find. The village has only been around since the 1940s and it's given it an identity."