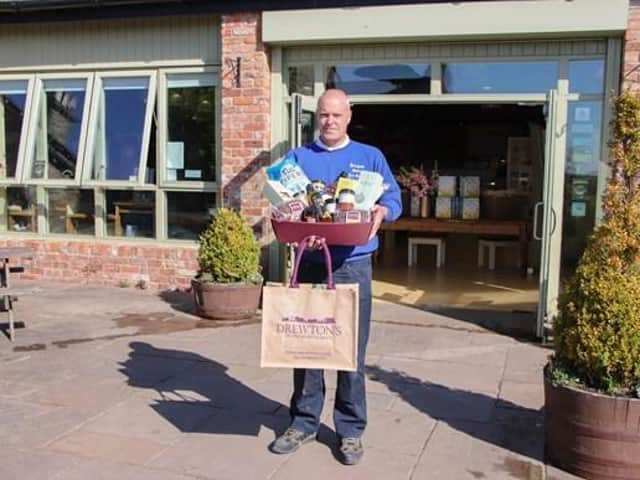 Shiptonthorpe ice cream makers join network
Burgess Ice Cream of Shiptonthorpe, near York, joins many East Yorkshire local businesses from the local hospitality, food and tourism sectors who benefit from the support of the network.
The network, which is facilitated by East Riding of Yorkshire Council's rural policy and partnerships team is an opportunity for local food and drink producers, independent retailers, hospitality businesses and organisers of farmers' markets and food festivals to work together to showcase the vast range of quality produce available across the county.
Burgess Ice Cream is now one of hundreds of businesses to feature in the free 2020 Enjoy Local Food and Drink Guide that is now available to download.
The guide, which was produced before restrictions were put on the food and drink sector due to the COVID-19 pandemic, promotes the local food and drink providers, highlights cafes, restaurants and venues that sell and use local produce as well as giving key dates for local farmers' and producers' markets along with food festivals.
The guide provides comprehensive information of where to buy and enjoy local food in the area as well as acting as a guide for those planning to explore East Yorkshire when the lockdown restrictions start to ease.
While many of the food, hospitality and tourism businesses have been forced to close during the pandemic and markets and festivals cancelled, many members have found ways of still serving their customers through online, collection or delivery services and a list of those operating can be found at www.eastriding.gov.uk/localfoodanddrink David Nowell, chair of the East Yorkshire Local Food Network, said: "I'd like to welcome all at Burgess Ice Cream and say it's a great achievement to have 200 members in the network.
"Over the last number of months, the restrictions put in place by the Government to help stop the spread of COVID-19 has made running hospitality and food businesses incredibly difficult but members are constantly adapting and coming up with innovative ways to keep their businesses going and their customers happy.
"There are still going to be difficult times ahead until businesses can get back to becoming fully operational again but the network will be playing a huge part in helping our members get back on their feet again."
Councillor Mike Stathers, portfolio holder for enhancing communities at East Riding of Yorkshire Council said: "Our local food and drink producers have faced a difficult time due to the COVID-19 pandemic but I'm pleased to see many members of the network still managing to run their businesses but just in a different way.
"I would like to ask people to download the 2020 Enjoy Local Food and Drink Guide and look at the list of those businesses who we can buy from now but also when restrictions on shops, pubs and restaurants are lifted, then I hope people will refer to the booklet and really give our support to help them get back up and running."
* Anyone who is interested in joining the network or would like more information should contact Julia Soukup, senior rural development officer on (01482) 391695 or email [email protected]