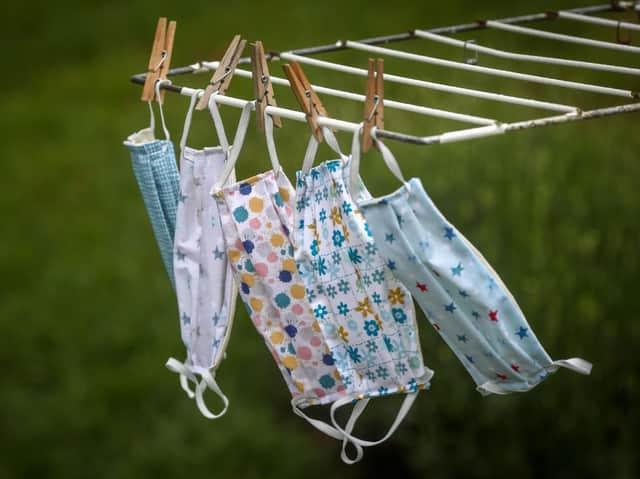 Homemade face masks. Getty Images.
North Yorkshire County Coucnil's Trading Standards team say since the Government issued advice that masks should be worn in enclosed public places, such as on public transport and in supermarkets, there has been an increase in online adverts for face masks.
While many advertised products are suitable for use in this way, some are wrongly described and claim that they offer more protection than they do.
In other cases, adverts are fraudulent, meaning masks are paid for but never received.
Face masks can protect other people by reducing the spread of the disease, but they do not prevent the virus, as is claimed in some adverts, so it is vital that people continue regular handwashing and social distancing as the main ways to protect themselves and others.
Trading Standards offer the following tips to buying face masks safely online:
- Check the seller's details and feedback before buying
- Avoid sellers outside the EU as there is no guarantee of safety
- Use a payment method with payment protection
- Ignore claims such as '100% effective at preventing the virus'
As an alternative to buying masks, the Government has provided instructions to make your own using an old T-shirt or fabric which can be found here.
The County Council has also produced a step-by-step video showing how to make a mask. This can be found on the council's YouTube channel here.
County Councillor Andrew Lee, Executive Member for Trading Standards, said: "It is understandable that people want to do everything they can to prevent the spread of the disease and avoid becoming ill themselves.
"Unfortunately, some unscrupulous traders are taking advantage of this and I would advise anyone planning to buy masks to exercise caution and follow the trading standards tips."
North Yorkshire Trading Standards is providing free advice to anyone planning to make masks to sell.
The team can be contacted on 01609 780780 or at [email protected] Residents needing advice about a problem with a mask they have bought or wanting to report concerns about products on sale should contact the Citizens Advice Consumer Service on 0808 223 1144.