NHS urges students from across Yorkshire to consider career in nursing or midwifery
The NHS's Chief Nurse for North East and Yorkshire is calling on anyone not sure of their career path after A-Level results day to consider becoming a nurse or midwife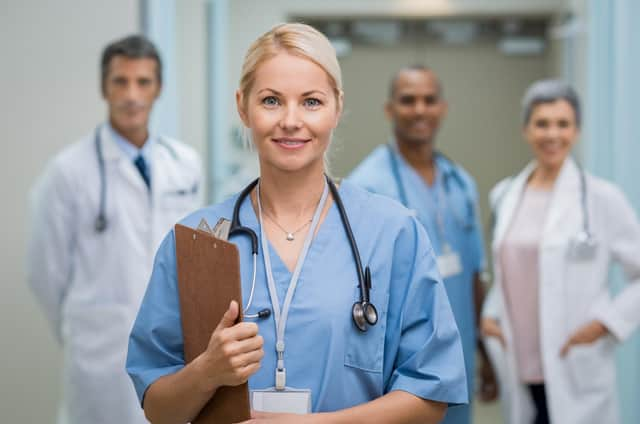 Already this year, 31,430 people in England have signed up for a nursing degree, and 7,490 have applied to become a midwife.
Now exam results have been announced, clearing places are available for nursing and midwifery and the NHS is reminding students who may be reconsidering their choices that a future in healthcare could be the life-changing career they're looking for.
Margaret Kitching, Regional Chief Nurse for NHS North East and Yorkshire, said "It was fantastic to see so many young people making the decision to pursue a career in the NHS.
"Nursing is one of the most rewarding and diverse careers, with over 50 different jobs and specialties that students can look into while studying and after graduating.
"Midwifery also offers hands-on training with the opportunity to make a real difference to patients' lives through a range of different placements while learning.
"For those who are still deciding on their next steps, or perhaps rethinking their original choices, I would urge you to consider applying for a nursing or midwifery course through UCAS clearing, and to search NHS nursing careers to find out more."
There are also career options for anyone who doesn't want to go to university but would still like a future in healthcare.
Healthcare Support Worker and Maternity Support Worker roles don't require a degree and give the chance to gain practical on-the-job experience with patients while offering fantastic progression opportunities.
Those who choose to attend university to study nursing or midwifery could also be eligible for the NHS Learning Support Fund, which will guarantee a grant of £5,000 a year, as well as specialist payments for studying mental health or learning disability nursing.
Students will also leave university as one of the most employable graduates in the UK, with 94% of those studying nursing landing a job within six months.
UCAS clearing is now open and prospective students will be able to apply for courses until 17 October. Entry requirements for nursing and midwifery degree courses will vary, but students are advised they will likely need at least two A Levels or equivalent. Contact a university directly to find out what specific qualifications are needed.