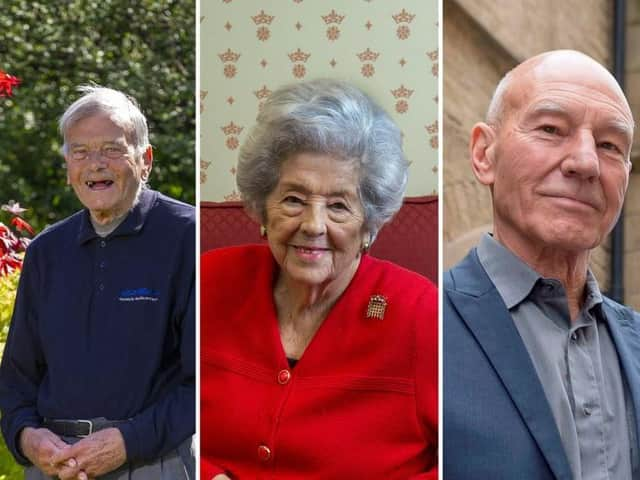 Famous Yorkshire folk, including Dickie Bird, Betty Boothroyd and Patrick Stewart have revealed their memories of VE Day.
Keighley-born Captain Tom Moore recently raised more than £30m for the NHS by doing 100 laps of his garden in time for this 100th birthday. Aged 25 at the time of VE Day, Moore had served in India and Burma during the war but was working as an instructor at the Armoured Fighting Vehicle School in Dorset at the time.
When VE Day happened I was stationed in Bovington. I was training troops to operate tanks. We were given the day off and everyone was very happy, but the war still continued in the East.
Sir Patrick Stewart, actor, director and Emeritus Chancellor of Huddersfield University. He was four years old at the time.
I have no memory of VE day except that provided by a photograph I have in a file in London.
The photograph was taken on a patch of bare ground at the bottom of my street, Camm Lane, in Mirfield. Our corner shop, which is how it was known, is in the photo and there may even be a glimpse of The Towngate Working Men's club facing it on the other corner.
There was a time when the Steward of this club was my grandfather, Freedom Barrowclough. The last time I was in Camm Lane that building contained a number of classrooms of Mirfield Grammar School. I never went there but from 1951 to 1955 I was a pupil at the newly opened Mirfield Secondary Modern School.
There must be over 50 people in the photo, half of them children, including four year old me, sitting on the grass, with a sandwich in my hand and a big grin on my face. My nine year old brother, Trevor, is also in the photo. He has recently returned to live in Mirfield. I recognize some of the children, Dennis Marshall and my friends - I think sitting beside me - Fred Fisher and Trevor Brook. There are a lot of adults, mostly women or old men, which you would expect. Along with a lot of flat caps. I think my mother is in the photo. If I remember correctly it is a very sunny day.
This is a very important photo - and memory - carefully preserved.
Dickie Bird, 87, the retired cricket umpire, was a 12-year-old boy at the time of VE Day. Dickie, who now lives in Staincross, Barnsley, said his father was a miner who was about to go to France with the Army when the war ended.
"I remember hearing the explosions in Sheffield, which wasn't too far from where I was living in Barnsley with my family.
"I was too young to really appreciate what was going on but I remember having to shelter under the dining room table.
"We lived in New Lodge in Barnsley at the time. My parents worked hard to make things seem normal for us children, but they were strange times.
"When VE Day came you could sense the relief. Up until that point we had to take our gas masks everywhere with us over our shoulders and we often had to go to the shelter at our home in Park Avenue.
"I was at Raley Secondary Modern School and I don't think we kids really understood how serious everything was. I'm sure our parents did.
"But when VE Day came there was bunting and parties. You could sense the relief. It only seems like yesterday, I can't believe it was 75 years ago."
Sir Bernard Ingham, Margaret Thatcher's chief press secretary and Yorkshire Post columnist. He was 12 at the time.
I am ashamed to say it but VE Day is now but a blur in my memory. I was 12 at the time, deep into soccer and Hebden Bridge Grammar School homework. I have vague recollections of a remarkable outburst of dancing and general rejoicing on Calder Holmes as people shook off their usually undemonstrative reserve. The killing was over – or at least in Europe – but Japan had yet to be defeated. The nuclear age had still to come.
I think the best way to sum it up is a great outpouring of relief up and down Calder Valley after over five years of living on the edge of a volcano. Mind you, Hebden Bridge was just about as far as you could get from that edge.
Hidden deep in the Calder Valley, it defied Nazi bombers who never got nearer than Halifax, eight miles away.
Ashley Jackson, Holmfirth-based artist.
To explain how and where I was on VE Day, I need to go back to when war broke out. I was born in Penang and evacuated to India through my grandfather Captain Cecil Scott, a Scottish bandmaster who had married a Portuguese girl.
Having spent time in India we were once again uprooted and steamed towards the Clyde and Glasgow, and were housed in an abandoned army camp, we were now war evacuees.
On VE Day we travelled with my grandfather from Glasgow down to London, I remember wearing a tie made from his tartan and donated clothes, and my cousins had matching pinafores.
We stood in front of Buckingham Palace where there was a huge crowd of people. It must have been a mixture of emotions for my family, because they knew that my father would not be returning having been killed by the Japanese in a prison of war camp.
Elizabeth Peacock was Conservative MP for Batley & Spen from 1983 to 1997.
We lived in a small house in a street near the High Street in the middle of Skipton and most of the other residents were older people and I do not have strong memories of any street parties. As I was only seven years old at the time my mum took myself and my sister on to the high street to listen to a Salvation Army Band who were playing for the whole town.
Best-selling author Barbara Taylor Bradford OBE was born in Armley Leeds. She was 11 years old at the time
I have a very good memory and I can very easily recall in a few seconds the event that has stayed in my mind since I was a child. VE Day. To me, it was the most extraordinary celebration that ever happened in Great Britain in its entire history.
I grew up in Upper Armley, a suburb of Leeds, and I see in my mind's eye all of the streets around us filled with men, women and children. All of them laughing, shouting, crying, being joyous in a very over-the-top way. It was just sheer excitement and happiness that we had won the war.
My mother and father were as excited and as happy as everyone else on VE Day. I distinctly remember my father, who always wore a suit and tie, had picked out his very best clothes for the event. And I remember wearing a brand new yellow summer dress with little flowers on it that my mother had bought me from C&A along with a yellow cardigan my Aunt Olive had knitted!
Every door in the street was opened, people were milling around, drinks in their hands, toasting Winston Churchill for the most part, and calling him "Winnie, our saviour". Fireworks were filling the air with brilliant light, there were bonfires everywhere, women were bringing out food and drinks for everyone, in other words it was a gargantuan street party that has never been seen before and after. I remember having a Union Jack flag in my hand my father had given me and, in the other, a sparkler.
There was also music. Someone had arrived with a concertina and had started playing it. A couple started dancing, then half the street were dancing. At one moment, someone began to sing the national anthem, God save the King, and after that we all went on singing all the favourite Vera Lynn songs - We'll Meet Again, We'll Be Seeing You and White Cliffs of Dover.
Try and imagine that this was going on in every street, in every city throughout the country. It was the party of all parties. The whole country was having a party.
During the day and into the evening we had visitors from other streets and some of our neighbours went and celebrated down the road. They all came back and said "We've got the best party!". I think we must have gone to bed at something like 2am in the morning. It was a day that lives on in my memory and always will.
Betty Boothroyd, the former Speaker of the House of Commons, was born in Dewsbury. She was 15 at the time.
In her autobiography, she writes: "I did not mind the war at all. My immediate family were largely unaffected and the community spirit brought everybody together.
"Towards the end of the war we moved to a better house nearby in East Parade which had a small front garden and a back yard, where my friends and I played.
"Mum and Dad were both working at this time, and I lit the fire and laid the table for tea before they came home. This led to a rare clash at school when Mr Hardy, one of my teachers, told me to stay behind because of some petty misdemeanour.
"I flatly refused and walked out, saying that I would accept any other punishment but would not let my parents, who worked damned hard, come home to a cold house. He must have been a wise old bird because he never mentioned it again."
Lord Haskins is a farmer at Skidby. An entrepreneur, he was Tony Blair's rural adviser at the time of the foot and mouth crisis.
I was brought up in Ireland – which had remained neutral – but we followed the course of the war very closely. As a six year old, I remember seeing a film very clearly about the victory at El Alamein.
On May 8, 1945 I was riding home from school and my mother was waiting for me at the gate to say the war was over. That day some students at Trinity College Dublin ( where I studied 10 years later) raised the Union Jack on the college flagpole.
This somewhat upset students at the Catholic University College Dublin.
Led by a future Irish Prime Minister Charles Haughey, they mounted an assault on Trinity and many windows were smashed. De Valera, the then Prime Minister, had just been to the German Embassy to express his condolences for the death of Hitler. All very confusing for an eight year old Anglo-Irish boy to absorb.