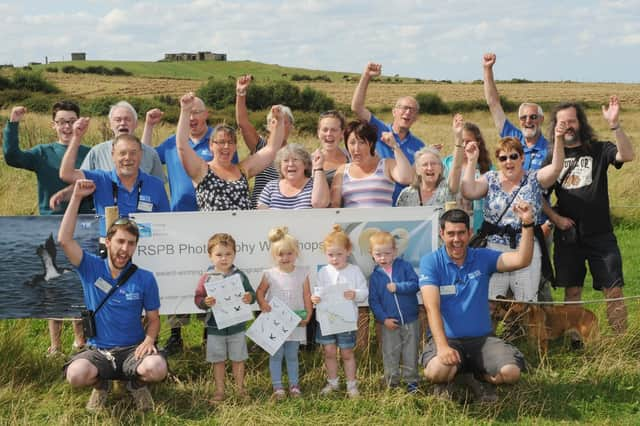 RSPB Bempton Cliffs staff, volunteers and visitors celebrate in 2014 after the popular nature reserve landed a grant award. Do you recognise any of the people in the photograph. Picture taken by Paul Atkinson. (NBFP PA1432-3b)
We love to hear your memories on the pictures we feature, including if you can put names to the faces.
We also love to see your nostalgia pictures that you would like to share with readers.
Running the Flamborough Sports Club Tombola as people visit the Flamborough Gala in 2014. (nbfp-msh1432y039)
Saint Catherine's fundraisers attend the Flamborough Gala in 2014 to bring in much-needed funds for the charity. (nbfp-msh1432y024)
The Nick Rook Band keep visitors entertained at Sewerby Hall's 'Message to the Sea' family arts event in 2014. (nbfp-msh1435x893)
RLNI Lifeguards Christy Milner and Oliver Wray with RNLI fundraisers Ben Sarney and Jamie Nunn at Sewerby Hall in 2014. (nbfp-msh1435x842)
Bridlington Rangers U7s Saxons take part in the football competition during the 12th Flamborough Gala in 2014. (nbfp-msh1432y008)
Flamborough Vikings U7s pose for the photographer during the 12th Flamborough Gala in 2014. (nbfp-msh1432y003)
Flamborough CC celebrate winning the Driffield Evening League Knockout Cup Final in 2014. (ndtp-msh1429x991)
Jean Pennington, Christine Whittaker, Pauline Bravery and Helen Lee serve up great treats during the craft fairat St Oswald's Church. (nbfp-msh1435x431)