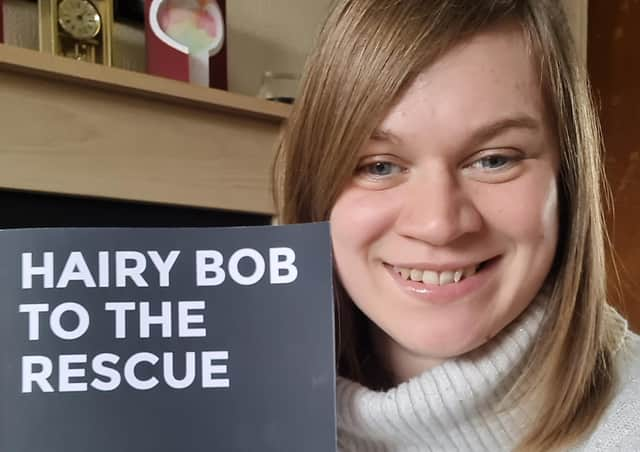 Author Sarah Hadaway is pictured with Hairy Bob to the Rescue.
Sarah Hadaway, who is a full time carer and a special needs advanced teaching assistant in the Scarborough area, has published 'Hairy Bob to the Rescue'.
The book, illustrated by Joan Woolverton, is centred around a character called Hairy Bob who lives in the little cave near the skate park on Scarborough's North Bay.
The story also features the town's RNLI inshore lifeboat and imagines the little house that sits on the hill is, in fact, a secret entrance to Bob's cave.
Mum of three Sarah said: "Children's literature is a massive passion of mine.
"It gives children and adults alike a form of escapism from the world around them as they dive into all sorts of adventures.
"Especially at the moment this form of escapism is more important than ever, which is what has finally given me the motivation to get my first book published."
Sarah has already finished writing the sequel to this book called 'Hairy Bob and the Stormy Night'.
This is currently awaiting illustration. It will then will go to the publication stage within the next few weeks.
○ Hairy Bob to The Rescue is available from Amazon in paperback form (£5.99) and as a Kindle edition (£2.99).
The publication (ISBN-13 :979-8707372384) is aimed at young readers between 4 and 12 years of age.
Visit tinyurl.com/glath9nx for more information.