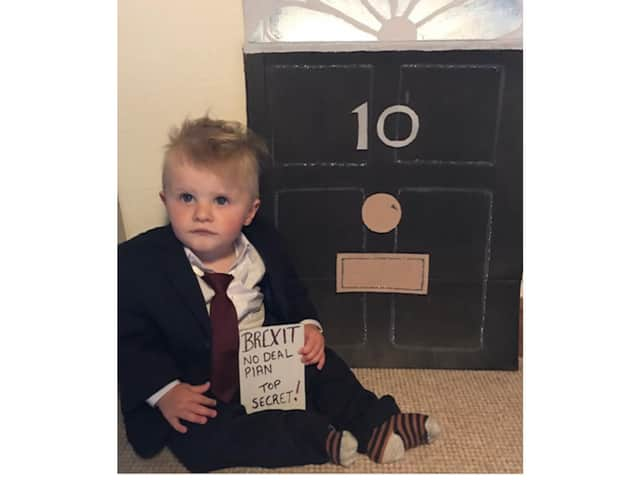 Harrison as Boris with his Brexit plan
Jenna Bowman, from Cloughton, has been capturing her toddler posing as Prime Minister Boris Johnson to the delight of friends and family following her on social media.
She even made her young son - who turns two this month - his own Number 10 Downing Street for the photos.
"It was the wispy hair I couldn't resist that had obviously gone wild while we were in lockdown!," said Jenna.
Harrison and his take on the Dominic Cummings controversy
"People did message saying it's kept them entertained and it was a bit of humour on some of the Boris moments!"
Jenna used to work for Emirates Airline, then toured with a company catering for singers including Little Mix, Elton John and Noel Gallagher.
She now works for KD Recruitment but has been off work during lockdown.
"I know everyone has had a different experience of lockdown but I've loved the time," she said.
Harrison as Boris coming up with the next steps to tackle coronavirus
"I've always had busy jobs so I'm enjoying the quality time and just taking a step back from rushing about.
"I will definitely keep the photos and show Harrison but I don't think he will thank me for them!"
Harrison with his own Number 10 door
Harrison and his mum Jenna