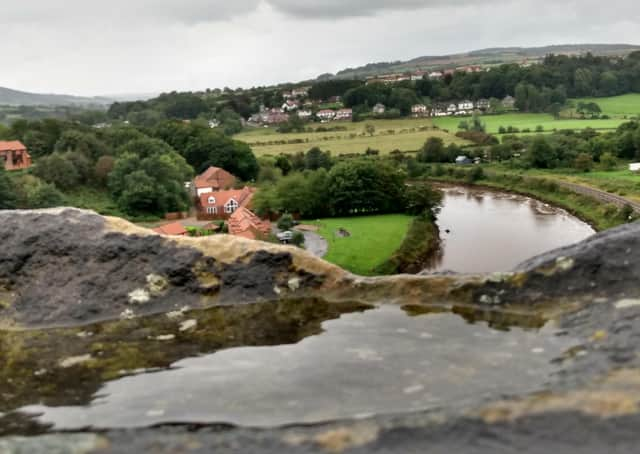 An 'infinity pool' on the Ruswarp Viaduct.
Determined to make a virtue of necessity, at the end of August the Whitby Walking Group put together an eight-day Walking Week, typically featuring an endurance and an interest walk each day.
So, for endurance, how about Paula Harrison's thirteen-and-a-half mile Glaisdale Grueller? And for interest, Anne Ward's sketching ramble in Staithes?
For covid-secure reasons, each walk was limited to six participants, with popular walks open to two groups of six with different start times or clockwise and anti-clockwise routes.
Whitby Walking Group's Peter Grundy.
You can imagine the banter on Martin Prescott's Seavey Hill and Rosedale walk when the clockwise and anti-clockwise groups met half way round with queries like 'What kept you?' and warnings such as 'You have to wade through a lake!'
Anyone choosing the longest walk each day would have walked 97 miles in eight days, much of it over difficult terrain. And thanks to the torrents of rain and extreme winds that Storm Francis brought, on most days we walked in unusually challenging conditions.
But then, real walkers enjoy such tests of mind, body, boots, waterproofs and washing machines.
It's being soaked to the skin and still triumphing on a day when your walk begins and ends in cloud that sticks in the mind – a common experience in the Lakes and Scotland, but, sadly, a rare privilege on the North York Moors.
Holidays are also about good company and good food.
A particular feature of the walking week was the option of eating in a pub at the end of a walk.
Making use of the Pig Out to Help Out scheme, we were able to enjoy several very good meals at a wide selection of excellent pubs, all offering a warm welcome to sodden walkers.
Although it's invidious to mention just one of many, there was a lot of praise for the exceptional meal at The Plough at Scalby at the end of Roger Crowther's 14-mile appetite-builder.
An alarming image I'll never forget: we're descending the steep slope from Trennet to Chop Gate very gingerly, most of us using poles.
We've been walking for seven hours, it's raining hard and the path's a treacherous blend of mud and shale. All of a sudden, one of our group goes flying over the edge, luckily bottom rather than head-first, and lands unhurt ten or twelve feet below on a bed of bracken.
If Isaac Newton had seen the speed at which she descended, he wouldn't have had to wait for an apple to fall on his head to understand gravity.
Of course, walking holidays aren't for everyone.
Some people prefer to be turned into beef tomatoes by day and kept awake all night by rowdy yobbos before returning home to a well-earned quarantine.
But like many of the things forced on us by the Covid-19 pandemic, the 'summer' Whitby Walking Week looks as though it's here to stay.