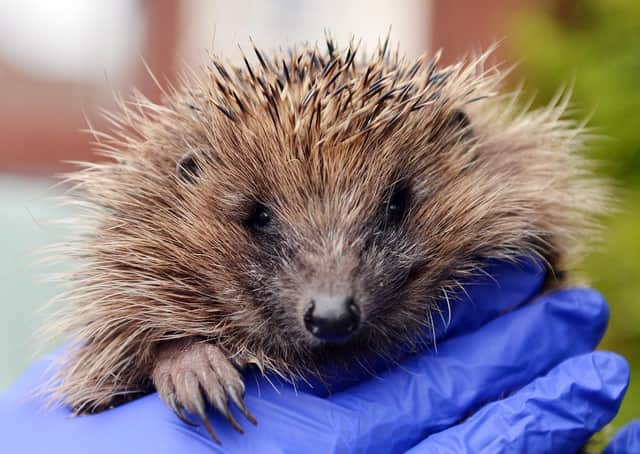 Contact the British Hedgehog Preservation Society if you need any advice about any hedgehog or hoglets.
The hedgehog breeding season will be in full swing by now, many will be expecting hoglets and some will already have them.
Female hedgehogs dislike disturbance to their nursery nests, some will abandon their hoglets if disturbed, others will move their family to a new nest (over a few days) and in some cases mothers may even kill their hoglets.
If you have a hedgehog nest box do not put food too close to it.
Contact the British Hedgehog Preservation Society if you need any advice about any hedgehog or hoglets.
Although you may think a nearby feeding station helps mum as she does not have to travel far to get the food, it will also attract other hedgehogs towards her nursery nest and perhaps cats and foxes too.
If you have a permanent hedgehog in your nest box at this time of year it is likely to be a female.
Females have to stay local to rear their hoglets so have a smaller home patch than the males.
In the breeding season males tend to be nomadic as they are looking for potential mates.
The males do not help with rearing the hoglets, this is done solely by the females.
If you have seen signs of courtship, lots of huffing and circling, you will need to be patient.
Do not be tempted to check the nest box as mum may leave.
You will have to wait about 8-9 weeks (32 days of pregnancy + four weeks until the hoglets come out with mum), but it will be worth it.
After a further four weeks the hoglets should be independent and will disperse leaving mum to perhaps start a new family.
Try to make your garden safer for those hoglets.
Check out the BHPS's Gardening with Hedgehogs leaflet.
If you have steps in the garden try adding a brick against the side of each step to halve the depth for their little legs to get up.
Particularly helpful for sunken areas in the garden or stepped basement areas, where they may get trapped.
If you find any hoglets out in the day, squeaking, with flies around them or 'sunbathing' seek urgent advice, and if you find one in trouble there are likely to be more so keep looking.
They can give general advice and perhaps details of a local hedgehog rehabilitator who you can contact for more advice and help.
Contact them on 01584 890801 or for general advice visit their website www.britishhedgehogs.org.uk