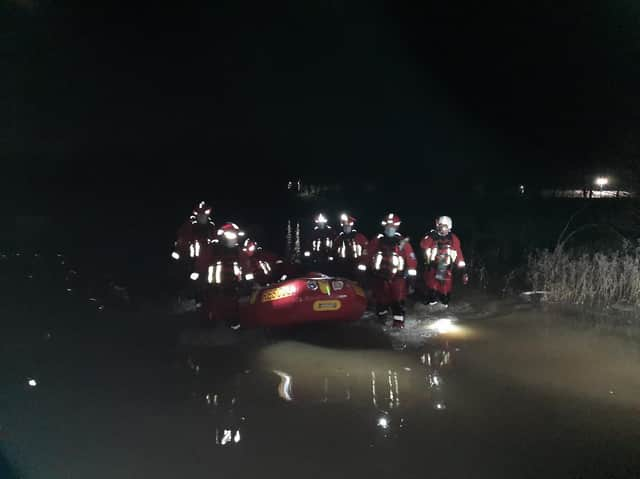 Pictures show Scarborough and Ryedale Mountain Rescue Team joining the Environment Agency, firefighters and council workers to tackle the flooding in Norton. Photos by Scarborough and Ryedale Mountain Rescue Team.
Scarborough and Ryedale Mountain Rescue Team were called in to help people in Norton late on Friday afternoon after water was reported seeping from under a brick section of the flood defences along the River Derwent and flooding a nearby field.
The team said there were concerns the flood could spread to a large number of houses and a care home.
It posted on social media: "The Local Resilience Forum and Environment Agency on site wanted to reinforce the wall with sandbags and deploy high volume pumps into the area to pump water back into the river.
"The challenge with this was that the fields between the railway line and the river were already flooded.
"Emergency staff on scene also had to co-ordinate their work around passing trains.
"We were asked to provide a swift water and flood rescue team and our raft and sled to ferry the sandbags into the scene."
Together with a water rescue team from HM Coastguard Yorkshire and Lincolnshire, they waded in the dark through 100 metres of waist-deep, cold flood water to move more than 250 sandbags.
The mission eventually ended just before 1am, after around 10 round trips, when it was decided the temporary works would hold and the pumps on scene would keep the levels down.
Meanwhile, teams from North Yorkshire Fire and Rescue Service, the Environment Agency and Ryedale District Council had been delivering and operating more pumps in the area, delivering sandbags to the roadside, establishing rest centres and warning residents to be alert to the threat and move possessions upstairs.
The mountain rescue team said: "Working as best we could within Covid-19 guidelines, we deployed 22 team members and two vehicles for just over 10 hours - returning to base and then home by 3am.
"Additional thanks to the The Salvation Army and local takeaways for hot food and drinks overnight, Pickering and District Rotary Club who bought us the raft after our work in the 2015 York Floods, and to Cleveland Mountain Rescue Team and other local mountain rescue teams who were on standby to deploy if needed and to be on scene to replace us if the incident had run until after 6am."